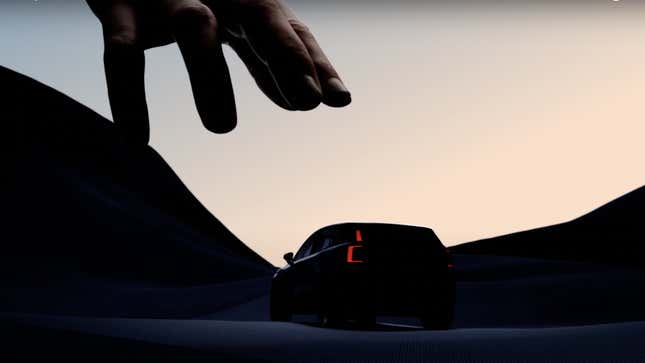 New cars have become wildly expensive in recent years, which has left a lot of younger folks in the lurch if they want to buy something new. Well, Volvo seems to have an answer to Gen-Z's prayers: the EX30. It's a small SUV that is set to have its global debut and reservation books open up on June 7.

This NYC Garage Takes Vanlife To The Next Level | Jalopnik Visits
In case you missed it:
Not too much is known about the EX30 right now other than the fact it's going to be pretty small. The press release for the vehicle is only a handful of sentences, but two of them have to do with the size of the EX30.
"We have big news: something small is coming," and "Thinking small is one of our biggest ideas," is probably a good indicator of the EX30's size. It's probably a safe bet to assume the new vehicle is going to slot below Volvo's 40 series of EVs like the C40 Recharge and XC40 Recharge. Based on the very weird teaser video, the EX30 has a bit more of a traditional SUV shape than those two crossovers, so don't be surprised if it rides a bit higher than them.
According to The Verge, Volvo is aiming the EC30 squarely at younger buyers, the types of folks who haven't moved out of the big city to start a family yet (please @ me next time). Those types of buyers are — apparently — looking for something sporty, with an "emphasis on adventure seeking," but still small enough to parallel park on a city street.
In an interview with Top Gear, Volvo's CEO talked about how important appealing to Gen Z actually is.
"Take a smaller SUV, which is more for city driving, maybe for first-time buyers. Gen Z — 18- 19-year-olds — is our next market. We don't talk to Gen Z right now, the brand has never really spoken to that younger demographic," Jim Rowan, Volvo CEO told Top Gear. "We are absolutely heading in that direction."
Part of how Volvo plans to appeal to us younger folks is through a different sort of ownership structure. Odds are most people in Gen Z still do not have the pure cash it would take to buy an EX30. No matter! Volvo is reportedly planning to use online buying and short-term, subscription-based ownership plans to win young people over.
"If you bring a small SUV, competitively priced, and you have that subscription-based ownership — you're only signing up for three months at a reasonably lower cost — they won't even go to a dealership. They will buy online," Rowan told the outlet. "I guarantee you."
He went on to say it's all about relationship building. The CEO wants to get customers in the door at a young age, so that way they'll stay loyal to the brand and eventually trade up to bigger and more expensive vehicles in Volvo's lineup. In his mind, it'll end up being like changing out a phone every few years. As Top Gear describes it, "by the time Volvo's roped you in with an insurance package and other offerings, you'll think it's too much hassle to bother switching."
So, only time will tell if the EX30 ends up being the car of Gen Z's attainable dreams. I mean, there are literally only three new cars for sale today for under $20,000, so Volvo will definitely have a bit of a tough time winning over the hearts and minds of folks who have been all but shunned by the industry.