---
1st Gear: Bump In The Road For VW's Beigekrieg
Reuters reports that Volkswagen is slicing its internal European sales target for 2012 by 150,000 vehicles. The information comes from a story in the German newsmagazine Der Spiegel. This is significant, for a number of reasons. First, we know VW is on a drive to become the world's biggest car maker, so cutting its forecast is a setback in its efforts to elbow Toyota and GM aside. Second, cutting a sales target this late in the year by that much means a company will have to make some adjustments with suppliers and at its factories.
Third, VW has thus far managed to maneuver through the choppy Euro waters, so if it's sending up a distress signal, things will be bad for other companies, too. In fact, Ford CEO Alan Mulally told Bloomberg last week that carmakers operating in Europe see a need to cut their factory capacity. VW confirms it has lowered its target but won't say by how much. "We are still doing well," a spokesman told Reuters yesterday. "We are growing. But we have always said the coming months will be challenging. Because of this we will make adjustments here and there." VW is flat out denying an earlier report by Germany's Handelsblatt that it is cutting its forecast by 250,000 vehicles.
---
G/O Media may get a commission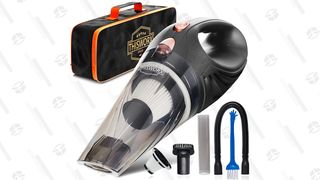 Save 50%
ThisWorx Car Vacuum Cleaner
2nd Gear: Ford Is Mulling A Cheap Small Car
Meanwhile, Automotive News (sub. required) says Ford is thinking about building a cheap, subcompact car below the Fiesta that it could sell in emerging markets. But it isn't planning to create a new brand to do so. Mulally declined to say where and when the entry level car, which is called a "global sub-B," would be built. Ford actually has a below-Fiesta car already in Europe. It's called the Ka, and it's built under contract for Ford in Poland. But it's so tiny that Ford hasn't tried to sell it globally. Mulally, however, thinks a Ford sub-B could eventually be sold in all of Ford's markets. That's the focus (no pun intended) for the automaker these days: it's trying to develop models that can work in places other than where they're introduced.
As with China, Ford is behind its competition in looking at this idea. Renault rolled out the low-cost Dacia brand in Romania in 2004. Since then, it has evolved from one bargain-basement model, the Logan, into a lineup that includes a hatchback, wagon, minivan and small SUV. Renault expects to sell about 1 million of its cheapest models around the world this year. I drove a Logan at Renault's test track a few years ago. It's pretty basic and it isn't the level of refinement that Americans are used to. But with the economy where it is, people might be willing to consider something simpler than they've bought in the past.
---
3rd Gear: Marchionne Gets In The CAW's Face
The Globe and Mail says Sergio Marchionne is breaking the protocol that says top executives don't taunt a big labor union when a contract is about to expire. In an interview with the Toronto paper, Marchionne said Chrysler has choices besides Canada when it comes to assembling vehicles. Marchionne, who went to university in Windsor, Ontario, said hourly labor (or labour) costs have to be the same on both sides of the U.S. and Canadian border. "Nobody in their right mind would continue to create an unlevel playing field in its own organization," he said. "It's impossible. We have other plants, other options."
There's always chest-thumping when deadlines get close, and in this case, the CAW's contracts expire on Sept. 17. CAW president Ken Lewenza, for his part, says the car companies seem like they want to avoid a strike. But Marchionne is holding a big ace in his deck of cards. Chrysler is thinking about whether to build a $400 million paint shop at its Brampton, Ontario, plant, which would extend the life of the plant for another 10 years. That's the only place Chrysler builds its big sedans, while Windsor is the only place where it builds minivans. But, Marchionne is also looking for ways to fill up Fiat's plants in Italy and he could conceivably move production overseas (that would probably go over really well with Canada, which ponied up to help Chrysler when it was bankrupt).
---
4th Gear: Lewis Hamilton Wins, But Will He Stay At McLaren?
Reuters reports Lewis Hamilton won the Italian Grand Prix yesterday, while Ferrari's Fernando Alonso finished third to keep the overall F1 lead. But what everyone talked about this weekend was whether Hamilton will stay at McLaren or decamp for Mercedes. At least one former champion, Sir Jackie Stewart, thinks Hamilton ought to remain where he is. "They have the resources and the money. They have the commitment and also have huge experience," the wee Scot said, according to the Guardian. "He would not be here today without McLaren, so there is a degree of loyalty that I think you should always have. I don't think McLaren have been out of the top end of motor racing now for a very long time."
Stewart brought up what a lot of people have been saying privately: that racing is more of a brand extension for Mercedes than a passionate pursuit. Said Stewart: "Mercedes Benz is a wonderful company, but it would take a five‑minute meeting by the board to stop them being in the sport because of the economy and all the currency that is involved in the present time in Europe. So, if I was thinking long term, then I would be looking to stay at McLaren." You might also think of it as the motor sports equivalent of the Detroit Tigers signing Prince Fielder. They've got him, but, baring a miracle, it's not taking them to the World Series.
---
Reverse: Of Course, A Taxi Driver Gets The Honor
On this day in 1897, what's believed to be the first drunk driving arrest took place when a London taxi driver smashed his vehicle into a building. The cabbie, George Smith, pleaded guilty and was fined 25 guineas. He probably had no idea he'd created an entire meme for generations of bloggers to come. [History]
Neutral
In keeping with our new discussion system, here's a place for you to own the floor. We're asking each day what you think about an issue that comes up in TMS.
Today, we'd like to know: how low would you go? Would you have any interest in a super-cheap Ford? Or would you rather pay something similar for a used car? Should Ford look at the global sub-B market? Remember there's no right answer or wrong answer. It's Neutral.
Show us your tips!
Got tips for our editors? Want to anonymously dish some dirt on a competitor? Know something about a secret car? Email us at tips@jalopnik.com.
Lost in our new layout?
Click here for the Opposite Lock or Tips forums. Want a more "blog-like" look? Click the button up top next to "Top Stories."
Get more Jalopnik!
Want even more Jalopnik? Want to know which of your friends read us? "Like" us on Facebook, follow us on Twitter, and subscribe to our newsletter.