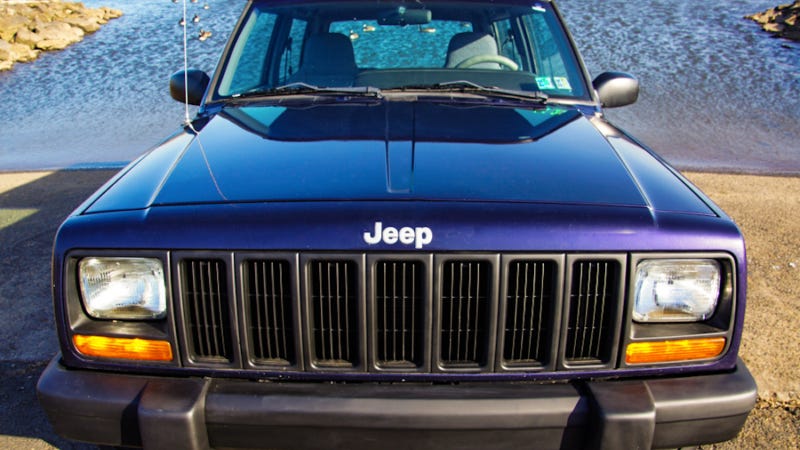 Welcome to Used Car Face Off, where we find two similar or similarly priced used cars and ask you which one you would buy. Choose wisely!
OK, everyone, I know you think the 2014 Jeep Cherokee sucks. My Facebook news feed has been covered by people I never even knew owned XJ Cherokees bitching and screaming that Chrysler and Fiat have ruined Jeep and this is the apocalypse and everyone is going to hell because the new Cherokee looks so awful. Calm down, Used Car Face Off is here.
I'm in the small-but-growing minority that believes the new Cherokee is actually going to be very good and I'm coming to terms with the front of it. But Jeep fans are probably even more aggressive than Saab fans and there's a whole lot more of them, so let's examine two finds on the used car market.
XJ Cherokees are a dime-a-dozen but nice, clean ones are growing scarcer by the day. But dig around and there are many gems to be had, like this 1998 Jeep Cherokee two-door manual offered by a classy dealer. Two-door Cherokees are sort of rare these days, probably because by the '90s people realized there was no reason to put up with awkward rear-seat access if you could get SUVs in four-door formats. But I rather like the uncommon-ness of this XJ and the simple two doors, four wheel drive and five speed gearbox. You could almost call it retro.
Some things I've noticed in comparison to modern vehicles: There are just two dials on the instrument panel and this was 1998. How did they get away with that? We can't blame DaimlerChrysler cost-cutting on this, either. Then there's the tiny cargo space. I'm pretty sure a Nissan Juke has more space. And the asking price of nearly $7,500 does strike me as a bit rich for something that's 15 years old with more than 100,000 miles in base trim. But then again, when was the last time you saw something like this roaming the streets?
Wait, what's this? You're telling me real Jeeps have round headlights? They have interiors you can hose out? Well, that's what this CJ-5 is for. Seriously, CJs are everywhere on the Internet and you can have something like this 1980 Jeep CJ-5 for $5,500. It even has more dials than the '98 XJ, even if there's less equipment. And nothing more than a canvas tarp protecting you from the elements.
I don't think I need to qualify a CJ's off-road skills. In all reality, this sounds like a very reasonable price for what appears to be a fine example of the breed. Trouble is, $5,500 is still a lot of money for something that's equipped like a Tuff Shed. It may have a straight-six as opposed to that XJ's wheezy four, but the CJ is a specialized, off-road machine that cannot be mistaken for competent everyday transportation. The XJ is definitely capable as everyday transportation.
That's why I'd take this XJ in a hearbeat, even if it has the power of a small-town councilman. I love the CJ and the nostalgia, but frankly, a lot of modern 4x4s are similarly talented off-road, long-term reliability be damned. Feel free to tell me off, but if I wanted hose-down capabilities, I'd buy a pickup truck. Actually, I may just peruse the WeatherTech advertisements of a car magazine instead.