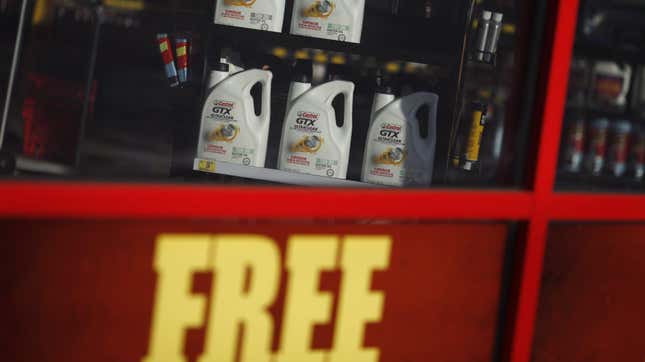 If you own an older car, you know it's a just matter of time before a part breaks. When that happens, you can head to your local auto parts store and fork over a hefty sum to buy a replacement water pump or whatnot. Or, you can pay much less online. It's basically an unwritten rule that buying parts on the internet is cheaper, and RockAuto is one of the sites I often cross-shop when I don't want to pay ECS Tuning or Pelican Parts prices.

This NYC Garage Takes Vanlife To The Next Level | Jalopnik Visits
RockAuto kind of, well... rocks for buying inexpensive parts, but there's a way to game the market even further, and I don't think enough people know about it. Probably because it's hidden behind an "RSS" button, which virtually no one is going to click on in 2023. That's an ancient acronym that stands for "Really Simple Syndication," and it's how netizens used to set up RSS feeds.
I won't get into the weeds here, since RSS feeds are mostly gone from the world wide web as we've come to know it, but setting up feeds was a way of curating the internet before search engine algorithms took over the world. That's neither here nor there, because we're here for cheap parts, and, boy, are there cheap parts to be found on RockAuto's RSS feeds for any given make and model.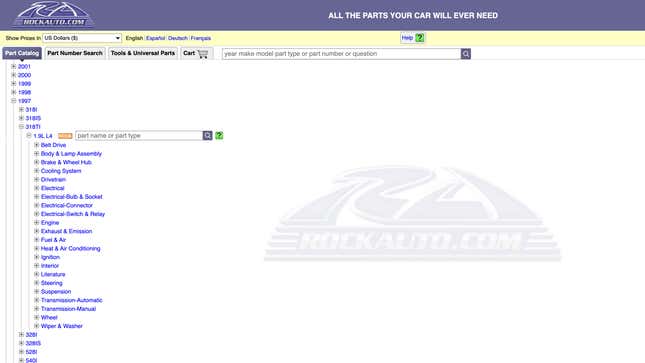 All you have to do is go to the site as if you're going to buy a replacement part. If you're unfamiliar with the site, don't worry. RockAuto looks more like a catalog from a parts store terminal rather than a modern web store, but navigating to the RSS feed section is simple: just click on a make, such as BMW, then click on the year and model and, finally, on the engine's specification of your car.

Do you see that orange button on the right that reads RSS? Click on that, and you'll land on a page that says "RSS Feeds Available for your..." followed by your specific make and model. There are two options on either side of a dividing line that read "Looking for that Part Nobody Has?" and "Love a Bargain?"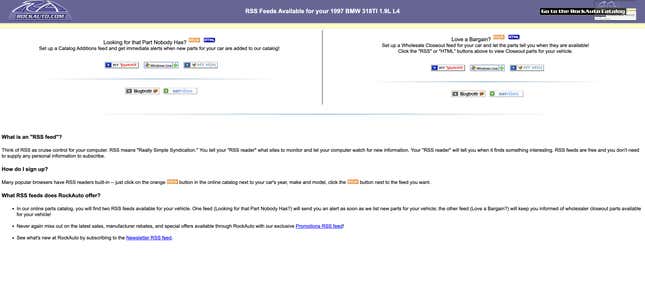 You'll notice that just under those options there are more remnants of the old internet, like a wacky Yahoo! button and MSN button, complete with a colorful butterfly. Back at the top of the page, you'll see another orange RSS button next to a HTML button. Click on the blue HTML button next to the word "bargain."

You ought to have landed on a page with a red banner up top. RockAuto loves to color code, it seems, but you'll know you're on the right page because it says "Wholesaler Closeout Parts" at the top. That's it! Welcome to the sale section of the sale section of the internet — as far as auto parts are concerned.
There, you'll find parts that cost less than a meal from your favorite fast food place, and certainly much less than the cost of similar parts from the parts store. We're talking water pumps for 20 bucks (sometimes), or control arms that cost $14.99. It depends on your daily driver, but it's usually a good way to score cheap parts that you may not need immediately, but will probably need at some point. Given that the average age of cars is steadily increasing in the U.S., it's likely that more of us can use a stash of replacement parts. And that stash was there all along, just hiding behind a button that few people would have clicked.