Uber driver Keith Avila overheard two passengers giving some alarming directions to a young girl en route to a Holiday Inn in Elk Grove, Calif., last Monday, so he called the police, according to the Washington Post. The girl, a 16-year-old runaway, was safely reunited with her family and three were arrested on prostitution and pandering charges.
Avila filmed a Facebook video afterwards outlining what happened. The young girl was wearing a very short skirt and initially asked if she could smoke marijuana in his car. When Avila refused to let her, she tried to leave the car but was ordered to get back in the car by the suspected female pimp, who was sitting with another woman in Avila's backseat of the car.

Avila was already suspicious based on the young girl's behavior, describing the girl as "very innocent" and "insecure" on Facebook. However, the conversation got much more suspicious after Avila's older passengers asked him to turn up the music. Avila noted in his Facebook video:

They were describing what they were going to do when they get there:
"Check for guns. Get the money before you start touching up on the guy."
According to Avila, an additional phone call the alleged pimp made from Avila's car inquired the suspected john if there was any law enforcement or police presence with him the room.

Immediately after dropping off his passengers, Avila called the police to report the suspected prostitution scheme.

G/O Media may get a commission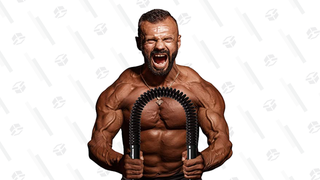 10% off
Zenooze Boa Power Twister
Avila's fears were right—police told the Washington Post that the young girl was being sold for sex. Destiny Pettway, 25, and Maria Westley, 31, were arrested on charges of pimping and threatening a minor, and Disney Vang, 20, was arrested and charged for unlawful sexual activity with a minor.

Avila told The Daily Beast that police reunited the young woman with her family following the incident:
What gave me chills is, the next day [police] said she was reunited with her family. She was missing. I felt kind of good about that.
Uber expressed their gratitude that their driver did the right thing to The Washington Post:

What Keith did is incredible. We appreciate his quick response and professionalism in a difficult situation.
Avila works as a quinceañera photographer and is a father of one, according to the Washington Post. He has only been driving for Uber for a few weeks.
Avila's politically-charged sidenote mid-Facebook-video alludes to his other claim to fame. A video Avila uploaded this summer where he asserted that he was a Mexican-American supporter of Trump went viral, per The Daily Beast. Regardless of anyone's political leanings, anyone with a basic human conscience is certainly grateful he went the extra mile to make sure his young passenger was safe that night.