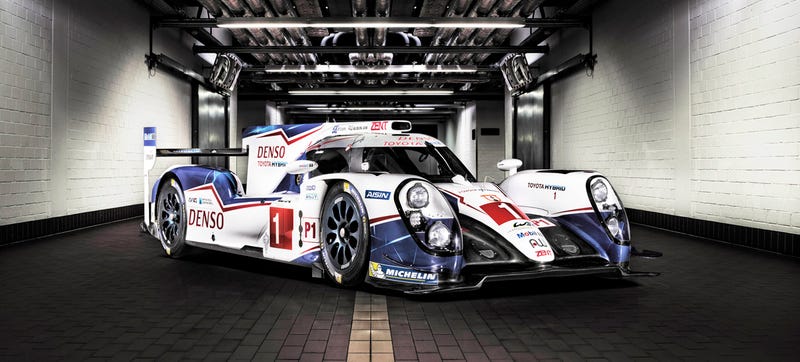 Toyota isn't doing a crazy retro livery for their 2014-winning World Endurance Championship LMP1 car like Porsche, and they aren't going absolutely insane like Nissan. Instead they're back for 2015 with familiar colors. The updates are under the skin, and it still has 1,000 horsepower, so that's good. Will it emerge victorious again?
With the WEC opening race at Silverstone just two weeks away (side note: Woooo!) Toyota revealed their updated 2015 racer to the world yesterday. Once again the TS040 Hybrid is rocking a gasoline 3.7-liter V8 augmented with hybrid electric power.
This year it's got a new front end and crash structure, a redesigned aero package, a new tire-optimizing suspension and less weight than before. Toyota says the car is car is "no revolution but it's an evolution almost everywhere," with 80 percent of the parts having been redesigned.
No radical changes, but when you have a program that brings home both the driver's and manufacturer's trophies like Toyota did last year, why mess with things?
---
Contact the author at patrick@jalopnik.com.