Remember all those reports about new-Top Gear host Chris Evans consistently sounding like arrogant bastard? True or not, they crop up at least once a week. Apparently this week Evans told off the first studio audience of the rebooted show, so it sounds like they're off to a great start!

There have been reports of Chris Evans making producers cry, flashing BBC employees at work, a feud between co-host Matt LeBlanc, failed shoots, public outrages, and a new sheriff to keep things in order. Meanwhile the BBC swears everything is fine.
The latest calamity, as reported by questionable British tabloid The Sun, claims that Evans went on a rant against the studio audience during filming of the new layout's first episode. Following Brad Pitt reportedly dropping out as the inaugural star, replaced by Jesse Eisenburg and chef Gordon Ramsay, Evans did not have a good taping.
Here's the string of shouts as reported by The Sun:
The host, 50, snapped during recording of segments for the revamped show: "Don't fold your arms, don't wear black. Take it off – take everything off.
"Don't fold your arms, don't have your hands in your pockets. F***, f***, f***, f***, f***."

"Don't be quiet. Talk among yourselves. Jesus Christ! Can you all hear me?"

Ah, that brings back traumatizing memories of getting annual family portraits done.
G/O Media may get a commission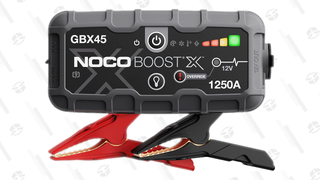 13% Off
Noco Boost X GBX75 Jump Starter
Anyway, the report goes on to mention that Matt LeBlanc shared in the struggles, failing to manage his lines repeatedly. Evans' introduction apparently took ten takes to get right, and the shoot took over four hours even though Evans had once proclaimed it would only take him one hour.
He even reportedly mocked Jeremy Clarkson's shoots typically requiring three hours to get right.
Well don't worry Chris, Matt, and friends crew. I'm sure you'll get there in a few seasons. Event the previous old-new Top Gear had some teething to work through early on.
Can't wait for May 30th! Jalopnik will be live-blogging it, so look forward to that.
Via Autoblog