We wrote 159 reviews during 2008. While culling the best for this list of the top 11, one thing became abundantly clear: America is making good cars again.
Sure, we still liked offerings from both the Far East and Europe, but, overwhelmingly, our favorites hailed from Detroit. Believe it or not, there was a discussion earlier this year as to the appropriateness of having a road test editor who was so anti-American cars. That's no longer a topic of conversation; check out the 11 most popular reviews, listed in reverse order below, and I think you'll see why.
Click on the images below to read the stories.
Jalopnik's Take: Ray summed up the TSX in four words: "competent yet remarkably boring." I'd add "the most attractive use of Acura's buck-toothed front end, but that's not saying much." According to Acura, the TSX's buyer is looking for a well-made, fully-featured, reliable vehicle. While we acknowledge that many people fit that profile, we don't.
How Many Readers: 20,464
How Much: $29,160
How Many Horsies Under The Hood: 201
G/O Media may get a commission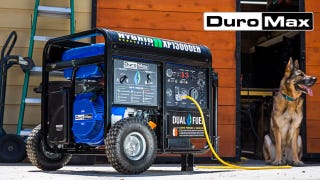 Black Friday Sale
DuroMax Generator Sale
Jalopnik's Take: I had to choose between driving this, or the ZR1. You might be surprised to hear that I thought about that for more than 10 seconds. The Fit's always been the fun choice for those needing a practical small car on a budget. John Krewson found that, for 2009, it's ramped up that practicality without sacrificing too much in the way of fun. He also made friends with it. He's a bit weird.
How Many Readers: 24,860
How Much: $14,550
How Many Horsies Under The Hood: 117
Jalopnik's Take: I get really fed up with people's preconceived notions about cars. More people have more preconceived notions about the little Smart than just about any other car, so I wrote this one to address those notions. In hindsight, I probably should have provided more justification for the "it's not gay" part.
How Many Readers: 24,964
How Much: $18,500
How Many Horsies Under The Hood: 70
Jalopnik's Take: This one was a complete surprise. BMW's range has really lost its "Ultimate Driving Machine" edge. They don't steer that well anymore, they're not that involving. Bizarrely, despite its complete absence of steering feel and complete reliance on involvement-removing performance aids, the X6 is really fun to drive. It's the size of a Suburban, but goes like an M3. You sit 10-feet off the ground, but there's no dive and no roll. The X6's capacity for cornering is unlimited. When the torque vectoring differential BMW calls Xdrive trickles down to a more obvious performance application it's going to be big news. Mark my words.
How Many Readers: 26,616
How Much: $63,225
How Many Horsies Under The Hood: 300
Jalopnik's Take: Ray ordered me to win the mileage challenge Ford held for journalists. So I did, getting 43.8 MPG driving through LA traffic. Most journalists got between 32 and 37 MPG, which is more realistic for the average driver. That's only part of the story however, the Fusion Hybrid is good-looking, good to drive and, for the class, has a nice interior. All that's wrapped up in a reasonable price tag. It's not the kind of vehicle we fall asleep dreaming about, but it is the kind of vehicle people are going to buy in big numbers.
How Many Readers: 27,344
How Much: $27,270
How Many Horsies Under The Hood: 191
Jalopnik's Take: the Forester was always the anti-SUV, all capability and no pretense. For 2009 it gains a tall, SUV-style body, which, too many, is a huge step in the wrong direction. Despite this, it retains all of the utility it's become famous for while proving fun to drive both off-road and on.
How Many Readers: 27,439
How Much: $26,195
How Many Horsies Under The Hood: 224
Jalopnik's Take: We didn't actually drive the Raptor — no one outside Ford has yet — but we did ride in one and, as you'd expect from a beefed-up off-roader built for speed, it was awesome. I'm looking forward to driving this more than any other vehicle in 2009.
How Many Readers: 29,968
How Much: n/a
How Many Horsies Under The Hood: 400
Jalopnik's Take: Cadillac reps had to order me out of the CTS-V after nearly four hours of continuous lapping at Monticello Motor Club. Combing detuned versions of the motor, brakes and suspension from the ZR1 with one of the nicest luxury sedans on the market is a winning formula, out M-ing or AMG-ing all comers. If Gawker paid me more, I'd buy one of these to live in.
How Many Readers: 30,531
How Much: $60,355
How Many Horsies Under The Hood: 556
Jalopnik's Take: A real slap on the head moment, this. Guess what? Diesels are great to drive and can deliver ridiculously good mileage. While trying kinda hard (sticking to speed limits, no aero mods) we got 72.4 MPG highway from the Civic and 33.2 MPG from the 550 Lb-Ft Q7. Yes, that's ridiculous, and no, we don't know why you can't buy them here.
How Many Readers: 35,410
How Much: n/a
How Many Horsies Under The Hood: 326-Q7, 138-Civic
Jalopnik's Take: I'm not what you'd call a Mustang Person. I don't watch televised sports. I don't own a single pair of cotton hammer pants. But, when equipped with the optional Track Pack, the 2010 GT won me over. Know the romantic image saying "Ford Mustang" conjures up somewhere in the back of your mind? The one involving the PCH and lots of cheesy helicopter shots? The 2010's handling, looks and driving experience finally live up to that.
How Many Readers: 36,148
How Much: $27,995
How Many Horsies Under The Hood: 315
Jalopnik's Take: The most anticipated car of the year lived up to the hype by being faster, better handling and more involving than anyone could have possibly hoped. I'll remember the day I spent driving it at the Lutz Ring as one of the highlights of my career and, to this day, have a hard time conveying the experience in words. The ZR1 single-handedly convinced me that the American car industry has a bright future; there's no better car made anywhere in the world.
How Many Readers: 77,053
How Much: $103,300
How Many Horsies Under The Hood: 638