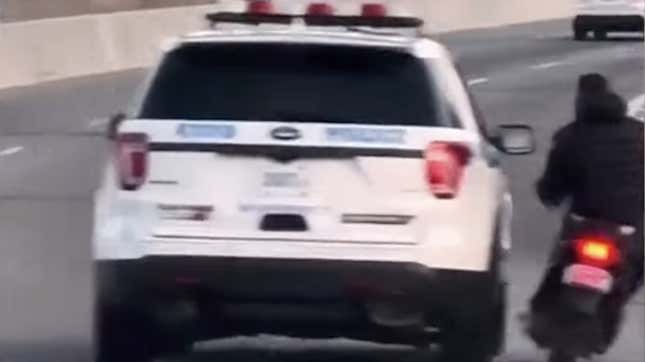 The New York Police Department is investigating a video going viral this week of a police cruiser seemingly attempting to side swipe a moped rider on an expressway.
Not much is known about the disturbing footage shot on Van Wyck Expressway, which runs between Queens and Brooklyn. The NYPD told CBS New York that they are aware of the video and investigating the incident. The video was posted May 14.
The cruiser has no lights or sirens on while harassing the moped rider. From the looks of the footage, it seems more of a case of road rage than trying to apprehend a suspect or get the moped rider off the expressway. Especially the way the cruiser swerves across three lanes and speeds up to get in front of the moped, only to brake check the rider.
Former NYPD Chief of Detectives Robert Boyce told ABC 7 the moped rider shouldn't have been on the expressway, but the officers actions are incredibly concerning. Boyce suspects some hard consequences are going to come down the line for the officer in the video:
"There was no sirens used, there were no lights at all, also no PA engaged telling the person to stop" Boyce said.

It's illegal for a scooter to be on an expressway — and it's not just illegal, it's risky.

"It doesn't have the power to accelerate or decelerate and it's dangerous because it's very small and you have a sight disability, a motorcycle is totally different," Boyce said.

It might have been the right idea to get the scooter to pull over, but the NYPD's tactics are concerning to Boyce.

"Some of those things like crowding you saw, that's inherently dangerous, it can get someone hurt," Boyce said. "It's not only dangerous for the officer or the person on the motor scooter, but everyone on that highway."

Cops certainly aren't immune to acting like assholes while behind the wheel. NYPD cops park their cruisers directly on sidewalks, much to the detriment of New Yorkers. Two cops in Detroit covered up their roll in a fatal crash following an inappropriate pursuit of a vehicle. Another in the same city ran a stop sign and then arrested the other driver for the crash the officer caused. Police have purposefully caused car crashes, only to find out the driver they crashed into wasn't their suspect. An off-duty officer killed a 12-year-old girl when he drove 95 mph through a school zone in Los Angeles back in February, the same city experiencing an epidemic in drunk driving among law enforcement officers.
This is a breaking story and we'll update it once we know more.