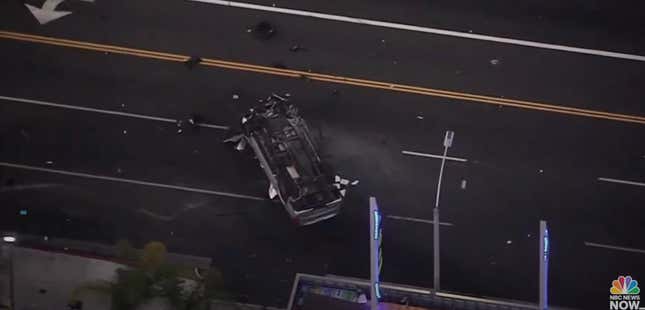 Prosecutors charged a former Los Angeles sheriff's deputy with murder Wednesday in a fatal off-duty crash caused when the deputy pushed his truck to speeds of around 95 miles per hour in a school zone.
The crash occurred on Nov. 3, 2021, when Ricardo Castro's pickup truck sped through an intersection at more than three times the posted speeds, T-boning the Mercedes containing 12-year-old Isaiah Suarez Rodriguez and his 19-year-old sister just as school was letting out, the Los Angeles Times reports. The posted speed in the area is 35 MPH, but 25 MPH during school hours. Prosecutors say Castro was traveling at 95 MPH at the time of the crash.
Castro's truck launched the Mercedes 75 feet from the impact site. Los Angeles District Attorney George Gascón also announced charges against Castro of vehicular manslaughter and reckless driving, causing great bodily injury. The crash in South Gate, a community southeast of downtown LA, was incredibly violent, NBC News reports:
Isaiah Suarez Rodriguez was killed. His adult sister, who was turning left in an older-model Mercedes when it was struck by Castro's Ford pickup, was seriously injured, South Gate Police Chief Darren Arakawa said at a news conference Wednesday.

The collision launched the Mercedes and caused the pickup to roll, Arakawa said. A woman who was Castro's passenger was also injured, he said.

"Driving at 95 mph was nearly quadruple the speed limit when schoolchildren are present, which shows a conscious disregard for those children's lives," Gascón told reporters.

"Mr. Castro's recklessness ended the life of a boy with an entire future ahead of him and destroyed a family," he added.

Castro's rap sheet when it comes to motor vehicle offenses is extensive, with multiple crashes and citations for speeding despite receiving what the Sheriff's office called "rigorous" safe-driving training while still a sheriff's deputy. He was placed on paid administrative leave following the crash and relieved of duty 15 months later once charges were filed.
Los Angeles County Sheriff's Department declined to comment on the charges, but issued the following statement, NBC reports:
"[...] Sheriff Robert Luna expects all members of the Los Angeles County Sheriff's Department to always hold themselves to the highest ethical and professional standards," the statement said. "Criminal misconduct will not be tolerated and Department members who allegedly violate the law will be held accountable."
That doesn't seem to be the opinion of much of Los Angeles' law enforcement. There seems to be problems with traffic stops at every level of LA law enforcement. The Los Angeles Police Department (an entirely different law enforcement outfit than the sheriff for Los Angeles County) is cracking down on DUIs after seven off-duty cops were charged in only the first two weeks of December 2022. Meanwhile, LA cops were found to be pulling over Black people twice as often as whites, despite Black residents making up only nine percent of LA's population.