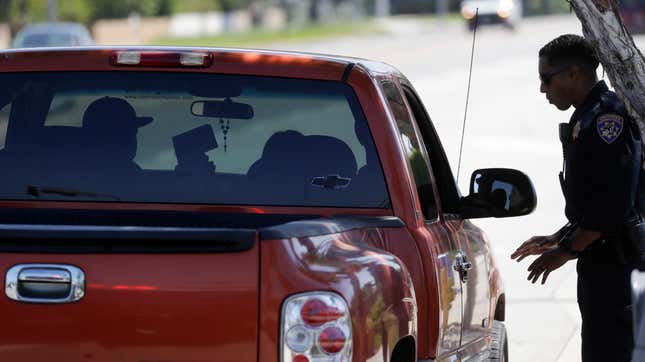 Some cops are still up to no good. An annual report done by California's Racial and Identity Profiling Advisory Board shows that officers across the state are still racially profiling drivers, specifically Black drivers.
This NYC Garage Takes Vanlife To The Next Level | Jalopnik Visits
The data was pulled from 58 police agencies across the state. Those agencies, which include 23 of the largest agencies in cities like Los Angeles and San Fransisco, showed that police collectively performed 3.1 million stops in 2021 — Everything from simple pedestrian stops to traffic stops.

The data then delves into what happened during various stops. The numbers show an interesting and obvious bias. While individuals perceived to be White (30.7 percent) and Hispanic (42.4 percent) were stopped more often than those who were perceived to be Black (15 percent), Black people were more often to be detained or searched. And again, the numbers show it.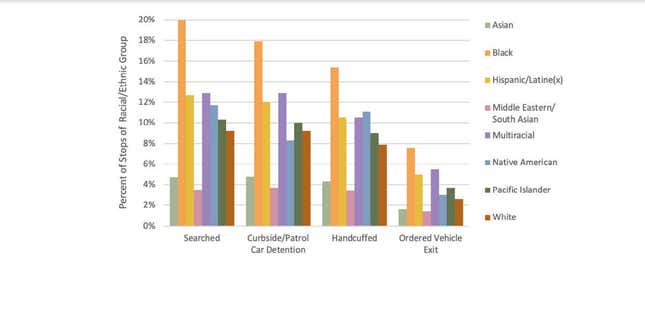 While the main reason for an officer stopping someone across all racial groups was a traffic violation (86.8 percent), Black people were most likely not stopped because of a traffic violation (80.5 percent). Instead, Black people had the highest instances of being stopped because cops figured they just had to have done something because they were Black. Over 16 percent of stops involving Black people showed officers reported performing the stops for "reasonable suspicion." Black and Hispanic individuals were also more likely to have the use of force used against them (1.24 times for Blacks and 1.09 times for Hispanics) compared to Whites.

Sadly though Black kids have it worse off than everyone. Black kids aged 10 to 17 were "detained curbside or in a patrol car (36.2-44.5% of the time), searched (39.9-42.4% of the time), or handcuffed (33.5-36.5% of the time)" compared to all other ethnic groups. Black kids were also six times more likely to be searched than White kids; Hispanic kids were four times more likely to be searched.

All this shows that implicit bias is still very much real in American policing and it needs to change. The excuse of "I deal with crime every day so I know who does and doesn't commit it" can't be used as an excuse to view people who have done nothing wrong with suspicion simply because of the color of their skin.