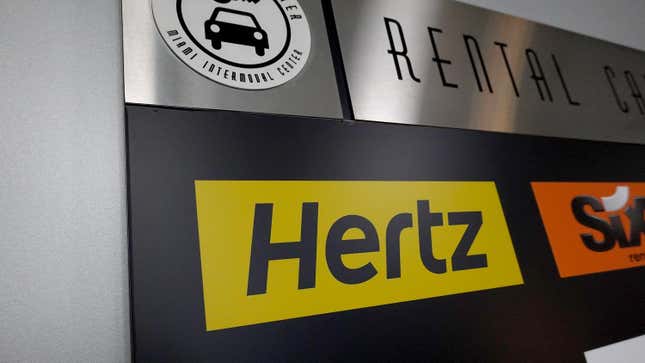 Despite the fact EV prices — for the most part — are falling, renting them hasn't gotten any cheaper than it was before. A new report from USA Today says that not only do electric vehicles cost more to rent than gas vehicles up front, in many cases there are hidden fees that have caught travelers by surprise.

Electric Car Charging Still Sucks, But That Might Change
You can probably guess those costs were hidden in various charging fees such as charging the car or spending too much time at a charging station. Yes, you read that right. You can be penalized for charging the car.
The report says that the fine print of the updated terms from Budget Car Rental require EVs to be returned with more than 70 percent state of charge or users will face a $35 fee. If it's less than 10 percent, then the penalty is $70. Budget is not alone in this, though. Avis — Budget's owner — has an identical policy. Hertz also has a set of complicated rules that include charging, an idle fee (which will penalize drivers who don't move the car after it's done charging) and a rule that customers must cover any cost toward a damaged charging cable.
Alternatively, USA Today says Enterprise does not have any EV charging fees and Sixt will reward customers who recharge their rental with a voucher.
The outlet spoke with Erin Kemp, a customer advocate for automotive site Bumper. Kemp says she has seen charging fees between $15 and $50 depending on the rental company and the car's battery. The analyst said that renters should think of it as a "supercharged" refueling fee.
There's a real big issue with a recharging requirement that goes beyond the monetary cost. The truth is, the way our infrastructure is set up right now, charging a car at a public charger isn't the most streamlined affair.
"With a regular car, customers can pop into the nearest fuel station to the airport to top up at the expense of five to 10 minutes," Phil Partridge, marketing manager for Rhino Car, told USA Today. "But the forward planning required to leave enough tie to recharge the rental car — up to an hour or more — could add unwanted time and stress to the rental return, which is already a rather nervy affair to many.