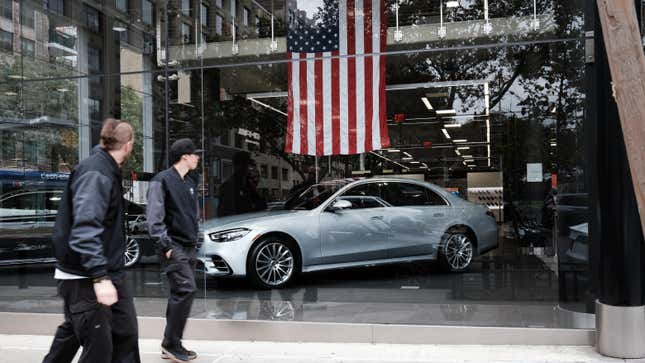 More and more car shoppers in the U.S. seem to be foregoing leasing their next vehicle in favor of buying or financing them outright, according to a new report from Business Insider.
This NYC Garage Takes Vanlife To The Next Level | Jalopnik Visits
The outlet says that leases made up just 17 percent of the car market in July of 2022. That's a big drop compared to the 31 percent share leases had in January of 2022, according to TransUnion. Apparently, of the 3.8 million people who had a lease end between July 2021 and June 2022, only about a quarter of them decided to lease a car again. That works out to be a 40 percent drop from January 2020. During that same July to June period, 26 percent of lease holders decided to end their leases at least six months before the expected lease-end date. That's a 63 percent increase since 2019.
Business Insider's reporting points to a number of reasons people just aren't leasing vehicles in the same numbers they used to. One of them, as you may have expected, is money. Leasing a new vehicle just keeps getting more expensive. The average monthly lease payment hit $661 in December 2022. That's a 33 percent increase from March 2020, Cox Automotive says.
Industry constraints are also partly to blame for the decrease. Inventory issues and dealer hassles mean shoppers don't want to have to deal with getting back into the car market every two to three years. It just isn't worth the hassle to many drivers. BI says that, in general, folks tend to hold onto their cars longer. The outlet says that S&P Global Mobility found the average age of a vehicle on the road in the U.S. was 12.2 years old in 2022.
The article does admit that some of that has to do with the chip shortage's impact on the number of new and used vehicles that could be bought on dealer lots since the beginning of the pandemic.
A final contributor to this new lease-less trend is the fact people are more willing to put money into maintenance on their vehicles that have rapidly increased in value (for the most part) over the past couple of years.
"The vehicle park is now hundreds of billions of dollars more valuable," Charlie Chesbrough, Cox senior economist, told Business Insider. "Do I replace that engine? Do I fix that transmission and spend thousands on this vehicle? The economics have really changed to suggest, yes, it makes more sense to invest in that vehicle."
All of these factors have come together to make the used car market pretty unbearable. Basically, there are fewer off-lease (read: newer and low-milage, but still used) vehicles headed to the used market. However, this hasn't slowed down the market's appetite for these types of vehicles.
It takes simple math to realize that fewer options on dealer lots, but with the same amount of demand will keep inventory low and prices high. It's an unfortunate reality of folks like me who cannot afford to buy a new car.
High used car prices have just recently started to subside, even if it is only slightly. Business Insider says information from Cox shows that the average cost of a used car in the U.S. in December 2022 was $27,143.