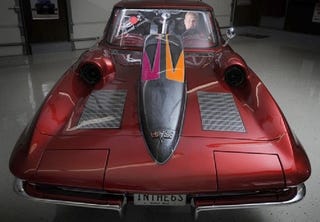 Rod Saboury's twin-turbocharged small block '63 Corvette exemplifies sick with a side of fries by laying down a 6.95 quarter-mile just after some drive-thru Micky Ding's. Here's how.
With pump gas, power windows, DOT-approved tires and a slew of cup holders, Rod Saboury saunters up to the strip and lays down a brisk high-six quarter mile run at 210 MPH - making the nearly impossible look completely effortless.

Using a 2,400 HP small block Chevy built by Moran Engines and force-fed by a pair of turbochargers, Saboury has catapulted himself into the record books by having the world's fastest True Street drag car. Stuck firmly to the pavement on a set of 22-inch tires, every launch is a careful balance between unlimited power and short-order traction. All of this insanity actually gets 11 miles per gallon on the highway in full race trim. Stuff it, Prii.
We've tracked down a clip of one of his insane runs and placed it below. Hearing be damned, imagine picking your kids up from school in this beast.
Hat tip to Cliff!