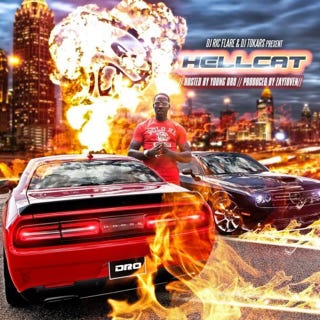 The Dodge Hellcat twins were pretty much guaranteed rap star status before they ever hit the showrooms, what with them being new and expensive and fast and American. No surprise that Young Dro already has a mixtape out Hell Cat that is a tribute to the cars.
Anyone who has driven in the South will know that there's a strong support of anything big, American, and V8-powered down there, particularly in the rap scene. In the past that meant classic muscle cars, but ever since Dodge went retro with the 300 and the Charger and then the Challenger, they've been in more songs and videos than I can remember.
I'm fairly sure that Rich Homie Quan was the first rapper to pose with a Hellcat, all part of a tie in with Furious 7.
Now Young Dro has him one up'd with a hole tape dedicated to the twins.
Hear it all right here.
(Hat tip to Derek Kreindler!)
---
Contact the author at raphael@jalopnik.com.