Jeep has introduced its very first production plug-in hybrids in the form of the Jeep Renegade and Jeep Compass, which are each powered by an electric motor in addition to the new 1.3-liter turbocharged inline-four. Together, the internal combustion engine and the electric motor make around 240 HP, can get the vehicles to 62 mph in roughly seven seconds, and offer electric-only drive modes for speeds up to 81 mph and distances up to 31 miles. Plus, they get an electric all-wheel drive system.
Fiat Chrysler calls its electric all-wheel drive system "eAWD," it basically allows for the electric motor to be the sole source of power for the rear wheels, while the 1.3-liter turbocharged four-cylinder sends the torque to the fronts. "This," Jeep says in a press release for the two PHEVs' debuts today at the Geneva Motor Show, "allows the two axles to be separated and to control the torque independently in a more effective way than a mechanical system."
The big news, of course, is the fact these two vehicles have battery packs that can be charged by a power outlet, and that can propel the small SUVs up to 31 miles, and at speeds of up to 81 mh. Fiat Chrysler says that the Renegade makes power in the "190 and 240 HP range," and can do zero to 62 mph in around seven seconds, with the Compass allegedly able to hit the same numbers "pending homologation."
G/O Media may get a commission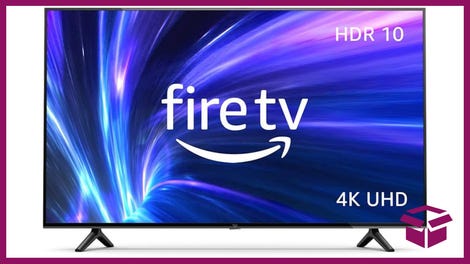 42% Off
Amazon Fire TV 50" 4K Smart TV
There's not a lot of information in FCA's press release about when or where these PHEV Jeeps are coming out, but FCA's representative told me it will be sometime next year, and that the brand is focusing only on Europe for now, with no comment on future U.S. availability.
It's been about a decade since I last recall Jeep showing off plug-in hybrid models; I'm hoping these two shown in Geneva today come sooner than the ones before.
Because I'm still waiting on them.