The Jeep Patriot EV gets an early reveal ahead of its Detroit Auto Show debut. Here's the skinny on the electric Jeep concept with a 400-mile driving range — direct from Chrysler's imagination.

The Jeep Patriot EV will join the Chrysler EV, Jeep Wrangler EV and Dodge EV (or Dodge Circuit) in Chrysler's growing group of electric cars the company claims they'll build by 2010.
G/O Media may get a commission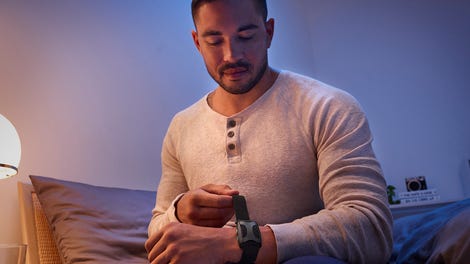 According to Chrysler, the Extended-Range Electric Vehicle (EREV) will be capable of driving approximately 40 miles on purely electric mode with additional power provided by a small gasoline-powered engine with an integrated generator, similar to what the Chevy Volt will offer. The information on price or production is non-existant at this point, but hey, Chrysler promises a quarter-mile time of 16 seconds, which seems awfully slow. Even for a fictional vehicle.
Although to be fair, this concept seems the most likely to be produced by Chrysler. It's a Jeep (sorta) and it's got a gas engine under the hood to extend the range. It's at least a possibility — unlike what we've seen so far from the ENVI unit.

Jeep® Patriot EV

• Chrysler's ENVI electric-vehicle technology meets industry's most capable compact SUV
• 400-mile total driving range
• 40-mile all-electric range with zero fuel consumption and zero tailpipe emissions

Jeep® Patriot EV joins the growing portfolio of electric-drive vehicles being developed by Chrysler LLC.

As a Range-extended Electric Vehicle, the Jeep Patriot EV combines the electric-drive components of an Electric Vehicle with a small gasoline engine and integrated electric generator to produce additional energy to power the electric-drive system when needed. This provides the positive attributes of an Electric Vehicle with the driving range equivalent to today's gasoline-powered vehicles.

"The Jeep Patriot EV expands our portfolio of ENVI electric-drive vehicles and is just one more example of what is possible through the technology Chrysler is developing," said Lou Rhodes, President, – ENVI, and Vice President, Advance Vehicle Engineering, Chrysler LLC. "Moreover, the Patriot EV provides socially responsible, advanced electric technology in the industry's most capable compact SUV."

The Jeep Patriot EV features a refined and clean front appearance to match the refined and clean powertrain. The signature Jeep grille features vertical accents, and the front fascia is a separate component to help set the grille apart. The use of body-color paint, blended with matte black B- and C-pillars, visually creates a smooth and elongated profile.

The unique wheel design and size gives the Jeep Patriot EV a wide stance which combines with the paint treatment to produce a sporty form. The interior of the Jeep Patriot EV features all of the elements introduced in the refreshed 2009 Jeep Patriot.

The Jeep Patriot EV uses an electric-drive motor, advanced lithium-ion battery system and a small gasoline engine with an integrated electric generator to produce additional energy to power the electric-drive system when needed. Range-extended Electric Vehicles provide customers a no-compromise means of dramatically reducing their gasoline use and carbon footprint. The Jeep Patriot EV has a range of 400 miles, including 40 miles of zero fuel-consumption, zero-emissions, all-electric operation.

The Jeep Patriot EV features a new ENVI Green Pearl exterior with a prominent "EV" graphic adorning both sides – top-to-bottom – of the vehicle.

Jeep® Patriot EV – Vehicle Specifications

Vehicle Type Range-extended Electric Vehicle,
5-passenger SUV

Weight and Dimensions
Length 173.6 inches / 4409 mm
Width 69.1 inches / 1755 mm
Height 65.7 inches / 1669mm
Wheelbase 103.7 inches / 2634 mm
Front overhang 34.8 inches / 883.9 mm
Rear overhang 35.1 inches / 892 mm
Track front / rear 59.8 inches / 1519 mm 59.8 inches / 1519 mm
Approach angle 27.5 degrees
Departure angle 31.4 degrees
Turn circle 35.6 feet / 10.85 m

Powertrain and Suspension
Layout Front-wheel drive
Motor Power: 150 kW (200 hp)
Regenerative braking
Battery Lithium-ion battery
Suspension Front - McPherson strut
Rear - Independent
Range extender SULEV gasoline engine and electric generator
Continuous electric power: 45 kW (60 hp)
Wheels and Tires
Tire size front P245 / 45R20 28.7 inches / 728 mm
Tire size rear P245 / 45R20 28.7 inches / 728 mm

Color Scheme
Exterior ENVI Green Pearl
Interior Dark Slate Gray

Key Performance Attributes
0-60 mph (0-100 kph) approximately 8 seconds
Standing ¼-mile low-16 seconds
Top speed greater than 100 mph (approximately 161 kph)
All-electric range 40 miles (approximately 64 km)
Total driving range up to 400 miles (approximately 644 km)
[Source Of The Embargo Break: Time.com]