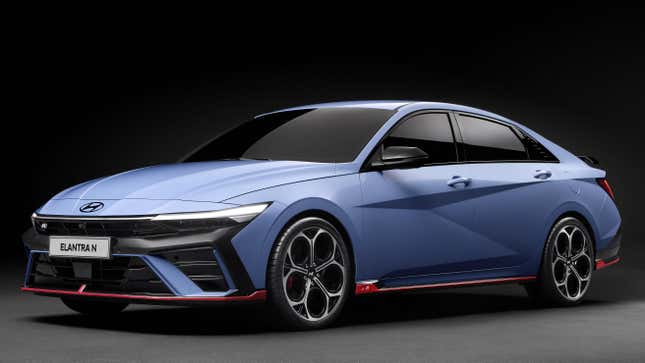 Like most of us here, I absolutely loved the Veloster N. It was a raucous little car: Fast, energetic, nimble, and with a perfect exhaust note. Yet even after the Veloster's death, its Elantra stablemate never gripped me in the same way — something was off about it. Now, it seems Hyundai's nailed down exactly what needed to change: The car's face.
This NYC Garage Takes Vanlife To The Next Level | Jalopnik Visits
In case you missed it:
The new, facelifted Elantra N debuted this week at Auto Shanghai, sharing the same front end as the base model Elantra we saw debut for the Korean market. Back then, we speculated that the change would propagate out to the U.S. market, and now it's been confirmed—Hyundai representatives told Jalopnik via email that the new look will be hitting our shores.
The updated front end really isn't that big of a change from the Elantra's previous face. Instead, it's a refinement—the grille is still gaping, the headlights still tucked away, but everything's been changed to look a bit more modern and high-spec. While some of that may change with entry to the U.S. market—note the lack of amber indicators and side marker lights—the new fascia is likely to still be a welcome upgrade.
Hyundai hasn't revealed any details about other changes to the Elantra N for 2024, any changes to the powertrain or suspension, but the company did say that specs for the U.S. market would come "a bit later in the year." I, for one, am excited—the Elantra N finally has a face worthy of succeeding the Veloster.