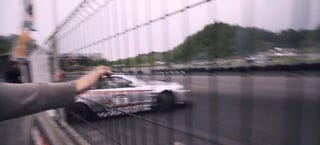 Is it possible to fly to Japan, buy a car blind, fix it up, and run in a pro-am drift event in two days? Watch this guy find out!
This is Dan Brockett. You know him from drifting Mustangs in the post-apocalyptic future. But apparently someone gave him a plane ticket to Japan and a line on a rear-drive R32 Nissan Skyline, which was enough to spark this beer-filled challenge.
Watch the full video above to see how things shook out for him. I want to do this so bad.