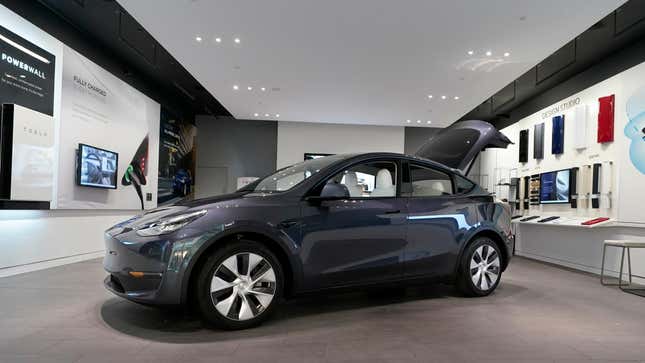 A couple weeks ago, Tesla dropped the price of its Model Y in the U.S. by $13,000, probably in part because they are worried about demand, though also because the IRS deemed the Model Y a car. That meant the Model Y wouldn't qualify for tax incentives because its old price was over the $55,000 limit, but its new price, $52,990, would qualify. Now Tesla has changed the Model Y's starting price again, to $53,490, without explanation.
2024 Nissan Z NISMO | Jalopnik Reviews
That classification of the Model Y as a car only extends to the two-row version, with the three-row Model Y being considered an SUV by the Internal Revenue Service, meaning that it has a higher price limit too, or $80,000 according to Automotive News.
But, for the two-row version, why $53,490 and not, say, $54,999? AN says there are some theories:
One theory is that two popular options, larger "induction" wheels and red paint, at $2,000 each, could create supply chain or production issues on soaring demand for the price-reduced Model Y.

Before the price cut and EV incentive took effect, the most inexpensive Model Y started at $65,990 before fees. The effective price is now $45,490 for customers eligible for the tax break, giving buyers more financial leeway to add options. Tesla may have a limited supply of premium wheels and proprietary red paint in the short term, according to the theory.

Other optional paint colors can still be added while staying within the $55,000 limit. The black paint option is $1,500, blue is $1,000, silver is $1,000 and white has no cost. On the interior, white seating is $1,000 while black has no cost.
AN says that others have some more galaxy-brain takes on the price fluctuations, one of them being that after the big price cut Tesla will try to slowly raise the price again, to encourage people to buy now or risk paying more later, which is about ten times more complicated than what I suspect is actually going on, which is that Tesla is a normal car company now and normal car companies price cars to sell all the time, the goal being to sell as many cars as possible, especially with big volume cars, which the Model Y certainly is.
Legacy automakers tend to do that with incentives and financing deals and lease offers and whatnot, while Tesla prefers to mess with the price itself, probably because it also likes to get some Twitter users talking about Tesla price fluctuations, which an extremely cursed corner of Twitter enjoys, a platform on the internet that I heard some big idiot now owns.
Anyway: If you want a Model Y, you should buy a Model Y. Or you should get a Volvo C40 or a Ford Mustang Mach-E or a Kia EV6 or a Volkswagen ID.4 or any other EV. In 2023, there are plenty of options beyond Tesla.