Members of the European Tesla faithful, rejoice: The Model 3 will soon be on its way to fulfill your entry-level-ish electric luxury sedan dreams. The car has finally cleared its last regulatory hurdle in Europe and the first batch of them are on their way now.
Bloomberg and other outlets report that Tesla has received the homologation green light from Dutch vehicle authority RDW, making the cars road legal across the European Union and paving the way for them to arrive shortly. The automaker will start with the Model 3 Long Range and deliveries are expected to begin in mid-February. The Model 3 order books opened to Europeans earlier this month.
In the U.S. the Model 3 is unquestionably a big hit, rising to become the top-selling luxury car in the country and stealing market share from German automakers like Mercedes and BMW (something even Cadillac continually tried and failed to do.) It also happens to be a lot of fun to drive.
But getting to that level wasn't without plenty of headaches and cash crunches. The Model 3 infamously started in production hell, the line had to overcome numerous quality issues and the long-touted $35,000 version is still nowhere to be found.
G/O Media may get a commission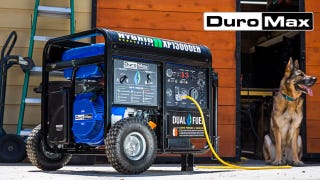 Black Friday Sale
DuroMax Generator Sale
At the same time, the European Model 3 launch comes at a crucial time for Tesla—although every time feels like a crucial one for the nascent electric automaker. The $7,500 federal EV tax credit is coming to an end for all of Tesla's cars, it's planning a huge new Gigafactory in China, it's dropping the cheaper battery packages on the Model S and X, and it's cutting its workforce and overall costs while simultaneously seeking to boost production.
Tesla will also face its hardest direct competition ever this year, with Audi, Volkswagen, Porsche, BMW and more putting out their own electric cars and crossovers. Getting the Model 3 in the hands of European customers will be key to getting ahead of the competition, and funding the company's big dreams of expansion.
Right-hand drive examples for the United Kingdom are expected mid-year, unless certain other events screw everything up entirely.