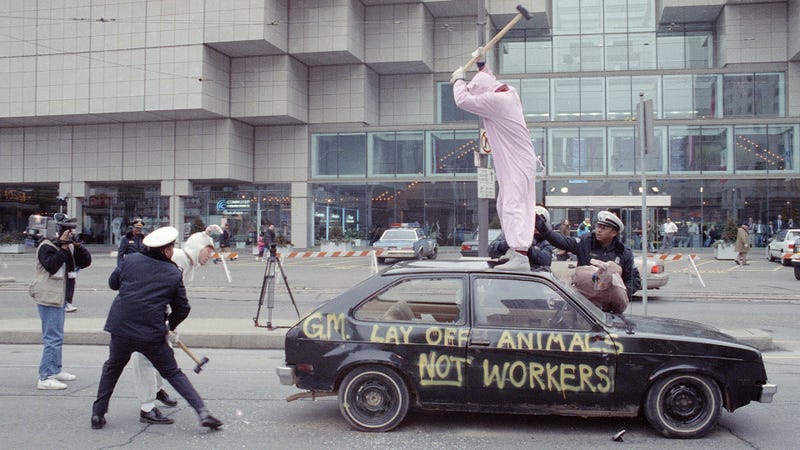 The Detroit Auto Show is the American car industry's most important display, meaning that when they're going downhill the show cars follow. Here are the ten worst cars ever to drop a sheet in the D.
---
10.) Plymouth Voyager III (1990)
I thought that question was for the worst concept. That thing is so 80's retro-future awesome. I would absolutely roll a 6 wheeled Lumina. I think that the next big custom trend will be a modernized 80's vibe.
Good point. The Voyager III was sort of funky. Then again, you couldn't get away from the fact that it was never going to happen, and what Chrysler was actually going to sell you was the Eagle Optima.
Suggested By: burglar can't heart click anything
---
9.) Pontiac Aztek (1999)
The photo says it all. The on-stage reveal was supposed to look like an Gen X'er party. "It's the Versatility, Baby!" said no "active lifestyle" Gen-X'er ever. I love how another is holding the sign that says "185hp" as well. Out of a 3.4L V6 that dated back to 1980. Like that was something to brag about rather than be ashamed of.

Yes, the Aztek was practical. But it was monumentally ugly, cheaply made, poorly built, underpowered, and overpriced. The much nicer Buick Rendezvous that was based on it had a lower base price.

GM spent $40M on the ad budget for the Aztek, they were so confident in its success. After just 4 months, there was a massive glut of them on lots, and a great many of them were being demo'd to GM corporate employees to take pressure off mounting inventories.

It was a disaster for GM.
It was a disaster for mankind.
Suggested By: N2Skylark, Photo Credit: NAIAS
---
8.) Lincoln Blackwood (1999)
Hello über-overpriced Ford F-Series truck.
Want one in blue with a tan interior? Well too bad.
Also, I hope you like chrome bed slats.
Oh, you want 4 wheel drive? Tough titties!
Well, at least the Mark LT was better.
Suggested By: OneFastPuertoRican, Photo Credit: AP Photo/Nick Ut
---
7.) Chevrolet Monte-Carlo (1994)
There was an issue with the name. carcrasher88:
Nice car, being essentially a Lumina coupe, but was nowhere near worthy of the Monte Carlo name. Should have just been called Lumina Coupe.
They just made a big deal about the rebirth of an icon. Not sure anyone ever considered the Monte as an icon...
My X-type is too a real Jaguar:
My bother-in-law did, he owned 4 of them the Ace Ventura model, an 80s SS, a late 70s "Luxury" edition, and a mid 70s behemoth.
Him and GM.
Suggested By: Kate's Dirty Sister, Photo Credit: aldenjewell
---
6.) Geely 7151 CK (2006)
Dear Geely!
Less of that, more of this!
Suggested By: Gamecat235, Photo Credit: AP Photo/Rob Widdis
---
5.) Chevrolet SSR (2000)
Retro design, retro power.
We can do retro too, guys! It even has a retro 0-60 time of 8 seconds!
In fairness, to be truly retro you would have to be slow, right? Grandpa never had a car that went 0-60 in 5 seconds.
In fairness, it was ridiculous, but not in a good way.
Suggested By: Collin Woodard, Photo Credit: Getty Images
---
4.) Chrysler Imperial (2006)
Some say it was the car of the show, others that this weird Phantom copy was the wrong car at the wrong time.
reverberocket is nipping the apex:
It looks big, but was it really?

"...the Imperial, mounted on a 123-inch wheelbase, is 17 inches longer and six inches higher than a 300 sedan. The roof was pulled rearward to enlarge the cabin as well as to create the luxury of length in side view. Most importantly, passengers sit nearly seven inches higher. Combined with the higher hood and deck and the large 22-inch aluminum wheels..."
In 2006. Right.
Suggested By: reverberocket is nipping the apex., Photo Credit: NAIAS
---
3.) Buick Signia (1998)
It was a badly proportioned crossover with infrared sensors in its bumper.
GM liked it so much that it ended up floundering on the back lot of the GM Heritage Center...
Suggested By: reverberocket is nipping the apex, Photo Credit: AP Images
---
2.) Jeep Renegade (2006)
Jeep keeps promising, but never delivers.
A. It looked like Hello Kitty barfed up a Jeep.

B. Diesel Hybird! So cooooool! I'm sure six years later we have that drivetrain in, I don't know, your whole lineup?!
Never!
Suggested By: Pcleez, Photo Credit: AP Images
---
1.) Chevrolet Citation (1980)
What do I get?
Your price is that you don't get a Citation. That should cover it.
Suggested By: TokyoBayAquaLine, Photo Credit: Detroit Auto Dealers Assosiation
Welcome back to Answers of the Day - our daily Jalopnik feature where we take the best ten responses from the previous day's Question of the Day and shine it up to show off. It's by you and for you, the Jalopnik readers. Enjoy!
Top Photo Credit: AP Photo/Paul Hurschmann