Fantastic races can disappear for many reasons including politics, unsolvable safety issues, financial trouble or technological advances. We miss these ten the most.
---
10.) Peking to Paris
Held in 1907, the Peking to Paris was a 9,317 mile race inspired by a challenge published in the Paris newspaper Le Matin on 31 January 1907, reading:
What needs to be proved today is that as long as a man has a car, he can do anything and go anywhere. Is there anyone who will undertake to travel this summer from Peking to Paris by automobile?
G/O Media may get a commission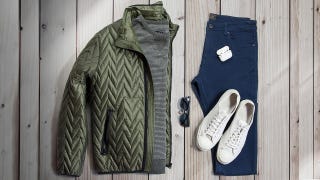 60% off
Jachs NY Fall Sale 60% Off
The race was won by the pair of Prince Scipione Borghese and journalist Luigi Barzini with the time of exactly 2 months, despite falling off a bridge at one point.
Suggested By: felixthegrumpycat, Photo Credit: Getty Images/Hulton Archive/Stringer
---
9.) Gran Premio Internacional del Norte
A certain Juan Manuel Fangio started his career here in 1940. Drifting Fangio has more:
I present to you the 1940 Gran Premio Internacional del Norte - a 6,000 mile over 13 stage race from Buenos Aires to Lima, Peru, and back.

Juan Fangio won it's only running with a winning time of 109 hours. Through cities, plains, forests, jungles, deserts, and narrow mountain roads with sheer 1,000' cliffs. It was a race that you simply survived. Where mechanical skill, strategy, and sheer physical endurance was matched raw talent and nerves of steel. Of the 92 cars that started, only 32 finished.

It's the race that made Fangio a legend before he went to Europe. It's considered by many to be his greatest achievement.
If you speak Spanish, there's a lot more about it here!
Suggested By: Drifting Fangio, Photo Credit: historiatc.com.ar
---
8.) Grand Prix of Cleveland
There used to be a lot more fantastic open-wheel races in the US, like the Phoenix Grand Prix on the street circuit or the one in Motor City. The Champ Car event in Cleveland was special because it was held at Burke Lakefront Airport.
"That shit was crazy", "YESYESYESYESYESYESYESYES," and "This. With the old tire/engine/chassis competition," is what some of you had to say about it, sometimes recognized as the best expired American open wheel event of recent decades. The last race was held in 2007.
Well, at least the F1 US Grand Prix was good, wasn't it?
Suggested By: Kate's Dirty Sister
---
7.) London-Sydney Marathon
This was one of the crazy ones. 7,000 miles across 11 countries in less than 2 weeks, with a 2600 mile sprint across Australia.
First held in 1968 (followed by one in 1977, 1993, 2000 and 2004), the original victor out of the fifty six finishers was a man driving a Hillman Hunter. Others used badass Ford Falcons or a tent on wheels. Six packs must have been involved.
Suggested By: manifold engines, wanting for time, Photo Credit: AP Images
---
6.) Daytona Beach Road Course
"This remarkable action shot shows driver Bobby Sall of Patterson, N.J., being hurtled to the Daytona Beach sands as his racing roadster does a bit of acrobatics not on the program in a test run for the 250-mile stock car race to begin here. The car turned over two or three times. Sall was knocked unconscious but uninjured March 2, 1936."
NASCAR has had nothing to do with stock cars since 1989, and this doesn't seem like it will change anytime soon. At least they discovered fuel injection. Maybe they should also look back at Daytona Beach. The birthplace of land speed records and stock car racing in America.
Suggested By: My X-type is too a real Jaguar, Photo Credit: AP Images
---
5.) Carrera Panamericana
The Mercedes team of Hans Klenk, Karl Kling, Alfred Neubauer and Hermann Lang celebrating their 1952 victory of the Carrera Panamerica at the Stuttgart Airport.
The border-to-border race across the Pan-American Highway was held from 1950 to 1954, and it was so challenging that Porsche named the 911 after it out of respect. The race still sort of exists as a road rally.
Suggested By: Diesel, Photo Credit: AP/Albert Riethausen
---
4.) Camel Trophy
As the Dakar is more and more about prototypes, true off-roaders wonder when will the Camel Trophy (held between 1980 and 2000) come back. Since cigarettes are not cool anymore, let's just call it Jalopnik Trophy and get dirty again maintaining a constant but rather slow speed.
Suggested By: HammerheadFistpunch
---
3.) Marathon de La Route
Also known as the 84 hours of Nurburgring. Following the Marathon Liège-Sofia-Liège and the Marathon Spa-Sofia-Liège, it was held in the late '60s, with the track combining the 17 miles of the Nord and Südschleife of the Nurburgring.
The race was run by production cars including Porsches and Volvos, but after gaining enough experience in the previous years, it was Tatra who scored a 1-2-3 victory in its class (3-4-5 overall) and also gained first position for the team as a whole in 1966.
Cars had to maintain a set lap speed and were penalized for extra time in the pits, making the Marathon more like a rally (or an endurance trial) than a traditional race, but that doesn't mean it wasn't extreme. In 1971 a special final edition was run at a length of 96 hours! You can read more on the rules right here.
If you want to see a bunch of Tatra 603s in action, czech this out!
Suggested By: Mers, Photo Credit: Jirka
---
2.) Targa Florio
It was just like the Panamerica, only much older and held in Italy. Porsche 911 Targa?That's why.
Safety concerns killed it off after 1977, but it remains an annual rally today.
Suggested By: WorldRallyBlog
---
1.) Mille Miglia
Everything and everybody making European motor racing cool between 1927 and 1957 was here. Just ask this gentleman.
Suggested By: the_wheelerZ
Welcome back to Answers of the Day - our daily Jalopnik feature where we take the best ten responses from the previous day's Question of the Day and shine it up to show off. It's by you and for you, the Jalopnik readers. Enjoy!
Top Photo Credit: Getty Images/Pascal Rondeau