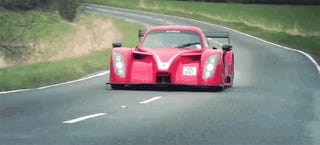 What if the cars you race blow their engines all the time and you can't find anything on the market you like? You start your own company and build stupidly fast yet affordable cars, that's what.
The British sports car industry is a beautiful phenomenon. Take Radical for instance. Started by a guy who dropped out of school at 15 to become a self-made engineer, the company grew to team of 140 employees, building the fastest and most rev-happy racing cars on this side of the planet that you can even drive to the track and back without spending a fortune on maintenance.
Records at the Nürburgring, V8s made using two Hayabusa heads with Radical's own kit, the smell of drying fiberglass in the morning. And at noon. And, well, all day long to be honest.
This factory is a tiny bit of perfection hiding in East England.
Phil Abbott is absolutely right by the way. I love a bit of nosedive if it tells me how not to kill myself out there.