A gloomy sales outlook for the rest of the year, a devastating earthquake affecting Toyota production, and a deep-dive into the effects of BMW's South Carolina operations on the state's economy. All of this and more in The Morning Shift for Monday, Sept. 10.

1st Gear: The Rest Of This Year Could Be Rough For Car Sales
Automakers are going to face a "tough slog" as they try selling vehicles in the U.S. between now and the end of the year, Automotive News asserts. Even though sales have been up this year compared to last, the news site says analysts don't expect 2018 to be any better than 2017, spelling an ominous forecast for the remainder of the year. From AN:
That means these next four months are shaping up to be a tough slog to the finish line for automakers — and a test of executives' ability to suppress their instinct to open up the incentive spigot as dealership traffic fades.
The news site goes on to say that August sales dropped 0.2 percent compared to August of last year, and while that may not sound like much on its face, the story then goes on to point out that last year's August sales were hampered by Hurricane Harvey. This year's numbers, one would expect, should have been significantly higher.
A drop in sales despite the United States' low unemployment and healthy stock market could foreshadow hard times ahead for car sales, with a senior economist for Cox Automotive telling Automotive News:
"This is why we believe all the positive economic news can't overtake the worsening buying conditions for consumers: The economy may be peaking right now, but the vehicle market likely peaked two years ago."
G/O Media may get a commission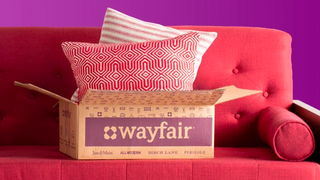 Big deals
Wayfair Surplus Sale
Projecting 2018 sales through August yields a total of 17.4 million for 2018, but analysts think reduced performance towards the end of the year will result in totals "somewhere between the high 16 millions and last year's 17.2 million."
Of course, sales aren't everything. New car transaction prices have been increasing, and there's a decent chance that profit margins have been, too. Automotive News points out that automakers refusing to throw huge incentives on the hoods of their cars just to move metal has contributing to the drop in sales.
Still, a Morgan Stanley analysts told the news site that the auto industry is "clearly on the downslope post peak," and this isn't the first time we've heard this.
With this dreary forecast, it'll be interesting to see how many "units" dealers can move in the next four months.
2nd Gear: Here's Toyota's Plan To Resume Car Production In Japan After Devastating Earthquake

Early Thursday morning, a magnitude 6.7 earthquake resulted in the death of dozens of people in Japan's northernmost main island of Hokkaido, and left the land littered with landslides and power outages.
The quake also shut down one of Toyota's main transmission plants in Tomakomai, resulting in the company halting 16 out of 18 automobile assembly plants in Japan, Reuters reports.
But now there's a plan to get operations back up and running. The news site says that, according to Toyota, the transmission plant is expected to go back online late on Monday after power was restored there on Saturday.
Toyota, on its global media site, described today how it plans to get vehicle assembly plants in Japan back up and running:
Toyota aims to restart production in stages on its vehicle assembly lines between September 11 and September 13, following on from power supply restrictions and parts shortages resulting from the severe earthquakes that have struck Hokkaido since September 6. Operations at all the unit-producing factories are anticipated to begin from September 11. Production at Toyota Motor Hokkaido is planned to resume sequentially from today.
The company put out this resumption schedule:
3rd Gear: How BMW's American Operations Created A Booming Automotive Presence in South Carolina

To better understand why roughly a dozen states were engaged in a "bidding war" last year for Toyota and Mazda's $1.6 billion joint venture facility, look no further than BMW's operations in Spartanburg, South Carolina, where the company builds pretty much all its SUVs, including ones for export.
Automotive News, in its story "How BMW Energized an Entire State," describes how the Bavarian automaker's facility, erected in 1994, represented far more than just another manufacturing plant—it spawned an entire miniature automotive economy.
As the news site points out, South Carolina is now home to over 400 automotive companies, many of which are there because of BMW. In the past 18 months alone BMW suppliers have dropped $200 million on new project in the state.
One by one, the story mentions major BMW parts companies making significant investments in South Carolina. For example, the news site says that JTEKT North America bearing company, whose headquarters is located in a Clemson auto research facility that BMW helped found, said in May that it will spend $19.4 million on an expansion project in Walhalla, South Carolina.
The story also mentions auto parts supplier Bo Parts GmbH, which spent $5 million on a 60,000 square-foot operation to "support [BMW's] global growth in low-volume production and service parts." Another BMW supplier, Gestamp Group, spent $129 million expanding its plant last year. MM Technics, a German company that supplies "metal structural parts" for BMW, invested $12.6 million on a plant in South Carolina.
Then there's a Spanish company that supplies BMW with interior parts:
Early this year, the Spanish auto interior supplier Grupo Antolin said it will invest $50 million to build three BMW manufacturing sites near Spartanburg. A Grupo Antolin spokesman said the plants also will supply General Motors, Ford Motor Co. and Honda Co.
And there's Tier One juggernaut, Magna, which supplies BMW with seats:
Magna International completed a $29 million plant in Spartanburg last year to produce seats for the BMW X5, X6 and, later this year, X7. Then in March, Magna said it will spend $8 million to expand the plant.

The takeaway here is that a major successful automotive plant promises much more than just hundreds of jobs at that facility—it has potential to result in major investments by ancillary companies, resulting in an economic boom many magnitudes stronger than the initial investment. And it's all threatened by looming tariffs and the escalating trade war.
4th Gear: Trump Says NAFTA Car Tariffs Would Be Canada's "Ruination"
NAFTA talks between the U.S. and Mexico seem to have settled down, but America's friendly northern neighbors are apparently not being friendly enough to yield to America's every will. And that, you might imagine, has the president up in arms.
According to the Detroit News, Trump said in North Dakota on Friday that Canada is ripping the U.S. off, and that a 20 percent car tariff could be on the horizon if Canada doesn't agree to a deal.
"In some countries, including Canada, a tax on cars would be the ruination of the country. That's how big it is. The ruination of the country," he said, according to the news site.
He also said that talks with Canada are still in progress. "We'll see what happens," he said. "Look, everybody wants to deal with us. We've never had a president that dealt," he said.
One of the biggest sticking points between the two countries deals with dairy, with the Detroit News writing:
White House Economic Adviser Larry Kudlow, speaking Friday on Fox Business, said Canada will have to make dairy concessions for a deal. "The word that continues to block the deal is m-i-l-k," Kudlow said. "The United States would rather have a trade deal with Canada, but it has to be a good deal."

Hopefully this comes to an end soon, and that no countries are ruined as a result.
5th Gear: Fiat Chrysler Will Announce New Leaders By The End Of The Month After Sergio Marchionne's Untimely Death

After the untimely death of Fiat Chrysler CEO Sergio Marchionne, Jeep boss Mike Manley took over at the head of the company. That means Jeep needs a new CEO, and in all likelihood, a number of other organizational changes need to be made at the company.
According to Reuters, Fiat Chrysler's chairman said at a shareholder meeting that Manley will announce the company's "organizational plans" by the end of this month.
So hang tight; big changes are happening at FCA.
Reverse: Brit Becomes The Person Ever To Be Arrested For Drunk Driving

Neutral: Are You Buying A Car This Year?

The sales forecast doesn't look great for the remainder of the year. Are you buying a new car in the next four months?