Sergio Marchionne, the blunt, sweater-wearing, hard-charging CEO who never minced words while he transformed a dysfunctional Fiat and a bankrupt Chrysler into a global car-making giant, has died, his company confirmed early this morning. He was 66.
Marchionne had become seriously ill in recent days, a situation that came as a shock to the automotive industry and the rest of the business world. He had surgery on his right shoulder in Switzerland three weeks ago, according to news reports, but his recovery was taking "longer than expected."
Between Friday and Saturday, according to Fiat Chrysler officials, his condition took a sudden turn for the worse with "unexpected complications." Though not explicitly confirmed by the company, Italian media outlets reported his surgery had been for invasive cancer.
Marchionne had been CEO of Fiat since 2004 and oversaw the acquisition of Chrysler to form Fiat Chrysler Automobiles. He was succeeded in the CEO role over the weekend by Jeep and Ram chief Mike Manley.

G/O Media may get a commission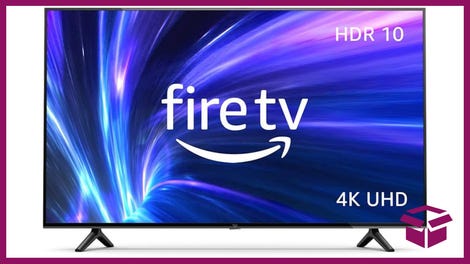 42% Off
Amazon Fire TV 50" 4K Smart TV
Marchionne is survived by his partner Manuela Battezzato and his two sons.
"He taught us that the only question that's worth asking oneself at the end of every day is whether we have been able to change something for the better, whether we have been able to make a difference," said John Elkann, chairman of the Italian investment group Exor that holds the largest stake in FCA, in a statement issued Saturday prior to Marchionne's death. "And Sergio has always made a difference, wherever his work took him and in the lives of so very many people."
With Marchionne's passing, the automotive industry loses one of its most interesting, unique and at times controversial figures.
He was as known for smashing through bureaucracy, slashing costs, working all of the time and obsessing over positive results, as he was for eschewing suits for his signature black sweaters instead. (That way he didn't have to waste decision-making time and energy figuring out what to wear, he often said.)
And while his frank, matter-of-fact way of speaking probably gave more than a few PR handlers nightmares over the years, it was indicative of the fast, hard, no-bullshit way he ran his company.
"Sergio crashed through the old culture," former Chrysler chairman Bob Kidder told The Guardian in a 2014 story about the automaker's turnaround:
On his very first day at Chrysler, Marchionne moved the CEO's office from the penthouse to the middle of the engineering department. He then streamlined senior leadership and asked most of his remaining 15 direct reports to lead more than one function, knowing that the increased work load would yield faster decision making.

Marchionne also gave his team full authority to take risks without bureaucratic barriers. People were trusted to make smart decisions and be accountable. Kidder says: "Suddenly, we had this very flat organization, and guess what? The speed picked up immensely."
Marchionne was born in Italy in 1952 but moved to Toronto with his family when he was a teenager, and held dual Italian and Canadian citizenship. A tax accountant and attorney by background, he came to Fiat through SGS, a Swiss inspection and testing business part-owned by the Agnelli family, the founders of the Italian automaking empire.
In 2004, being CEO of Fiat was a job you wouldn't have wished on your worst enemy. The company was losing something like $1 million a day mired in waste, bureaucracy and managerial incompetence. Marchionne cut his way through all of that, firing "layers of management and [appointing] younger, talented people, to replace bureaucracy with meritocracy," The Guardian reported in 2009. He was known as a sometimes ruthless, results-obsessed, chain-smoking leader with no tolerance for failure who worked around the clock as his job constantly took him between Switzerland, London, Detroit and Turin.
But unlike many auto industry executives who come in through the financial side, Marchionne always seemed to have a legitimate passion for the cars his company made. Over the years he owned many of them, including a Maserati Quattroporte, a Fiat Panda, a Dodge Challenger SRT8 and a Ferrari 599 GTB Fiorano, which he famously crashed on a Swiss highway in 2007. He cared deeply that the Ferrari Formula One team wasn't winning all of the time in recent years. For a bean counter, nobody ever seemed to doubt he was a car guy.
Even after putting Fiat on the path to a turnaround, an even less enviable job was taking over Chrysler, which was ailing badly after years of mismanagement by the Germans at Daimler and then a private equity company. Infamously, Chrysler stayed afloat with billions of dollars in U.S. taxpayer bailout money—a lifeline that would not have happened without Fiat promising to step in and help out afterward.
Though many warned against it at the time, the Italian automaker moved to acquire a 20 percent stake in Chrysler and a strategic alliance following its emergence from bankruptcy in 2009. The companies fully merged into a new entity called Fiat Chrysler Automobiles in 2014.
Under Marchionne's leadership FCA has been a far more successful entity than either company was going it alone. It ranks among the world's largest automakers and one that nearly doubled its profits in 2017 to $4.35 billion. It's a reality that would have seemed quite unlikely a decade ago, and even more so without the right person at the helm. In the years since, it has also reintroduced Alfa Romeo to the U.S. market and spun Ferrari off as a separate entity, which Marchionne also headed until Saturday.
The recovery has certainly not been without its headaches. A five-year roadmap unveiled in 2014 has yielded mixed results since. The quality of its various brands and cars are wildly all over the map, unlike at, say, Toyota. The future of brands like Dodge, Chrysler and even Fiat seem unclear in the U.S., and much of the company's viability comes from Jeep and Ram as the car market shifted away from small cars and sedans and toward SUVs and trucks. It has been slow to adapt to the looming electric car revolution.
Over the years Marchionne's boldness at FCA garnered headlines for reasons good and bad, but that always reflected his intelligence and candor. When asked if an autonomous Ferrari would ever happen, he once said "you'll have to shoot me first." He made reference to chopping employees' private parts off in reference to the failure of the Chrysler 200. He implored people not to buy the Fiat 500e electric car, made pretty much only to satisfy California regulatory requirements, because his company was losing money on it. His reprimanding of a PR person who swore the company didn't equip vehicles with illegal software to skirt emissions tests like Volkswagen showed his propensity for real talk. And for much of 2015, he was lambasted for his seemingly tireless quest to merge with another large automaker in order to reduce inefficiencies and lower costs, including rival General Motors. (That obviously never happened.)

Regardless, it is hard to imagine many people other than Marchionne being able to pull off the recovery of Fiat, the acquisition of Chrysler and the creation of this modern global car empire, often through his own ruthlessness and inexhaustibility—something that was clearly weighing on him toward the end of his tenure. At 14 years behind the wheel of Fiat and then FCA, he was one of the longest-serving chief executives in the automotive industry.
"This business, if you really want to do it well, is all-consuming," Marchionne said in an interview with Bloomberg in Detroit in January. "I am tired. I want to do something else." Sadly, he never got the chance.
"Over the past 14 years together we have lived through successes and difficulties, internal and external crises, but also unique and unrepeatable moments, both personal and professional," Elkann said in the statement. "For so many, Sergio has been an enlightened leader and a matchless point of reference."
For certain, the automotive industry is considerably less interesting without him.