The small-car era at Ford really is over, NAFTA talks never will be, and Aston Martin needs more women in leadership positions. All of this and more in The Morning Shift for Thursday, Sept. 6, 2018.
1st Gear: Ford Wasn't Kidding
You thought Ford was bluffing, right? That there was no way this automaker would really drop all of its cars? Well I have some bad news for you: Ford wasn't bluffing. And now, a few years before all of those sedans and small cars are set to end production, Ford's not even going to advertise them nationally anymore.
Automotive News reports that Ford ended all of its national ad campaigns for the Fiesta, Focus, Fusion and Taurus. The Focus is new on that list, since it was originally supposed to stay around—Ford's plan was to keep only two cars while dropping the rest of its North American lineup, the Mustang and the Focus, but Ford dropped the latter thanks to tariffs from the Trump administration.
Dealers will be pretty much on their own trying to sell the dying small cars for the next few years Ford keeps them around, too. Ford's putting the ad money toward our crossover-covered future and the always-trusty Mustang instead.
G/O Media may get a commission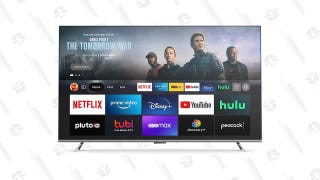 Save 46%
Fire TV 55" Omni Series 4K UHD Smart TV
From Automotive News:
Mark LaNeve, Ford's vice president of U.S. marketing, sales and service, said the automaker plans to redeploy that money on vehicles such as the Mustang, EcoSport and a slew of next-generation utilities coming by the end of the decade.

"It allows us to focus our resources," LaNeve said in an interview Tuesday. "If we can take that money from sedans, where we have a middle-of-the-road position, to be the leading brand in SUVs, that'd be a really good position."
The Fusion will be around for at least a couple more years, with Ford reportedly considering a wagon version to compete with Subaru. But dealers will have to rely on stuff other than ads to get customers' attention. From Automotive News:
Although the Fusion will get no help through national ads, LaNeve said Ford still will support sales of the car with incentives for dealers to offer.

"Obviously, we can't let the dealers just sit on the inventory," he said. "We'll keep them competitive on incentives, but we're certainly not spending money there in a way where we'd be driving the market. We're accepting the share we've got."
Now, if only someone could find a way to stop those "real people" Chevy ads.

2nd Gear: NAFTA Talks Are Back Again, Woo Hoo
Canada hasn't been around for many of the recent North American Free Trade Agreement discussions, and, honestly, who can blame them? It's like fighting over who has to do the dishes each day at home—a long battle that, at the end, has no true winner because everyone has to do the dishes someday.
The U.S. and Mexico came to a stupidly complicated preliminary agreement on NAFTA last week, which included the rule that automakers would have to make "at least 75 percent of an automobile's value in North America under the new rules, up from 62.5 percent previously." The agreement also said car companies would have to use more local steel, aluminum and parts, and a certain amount of the car would have to be made by workers making at least $16 an hour.
Now that the U.S. and Mexico have "agreed" to something, Canada decided to show back up. Reuters reports that President Donald Trump said the talks were coming along, and that a result could come in the next few days.
But Canada's less jumpy on that. From Reuters:
There were few signs, however, that a deal was close to being struck and comments by Canadian Prime Minister Justin Trudeau on Tuesday indicated there would be little compromise from Ottawa on its red-line issues.

Canada wants a permanent exemption from Trump's steel and aluminum tariffs and the threat of auto tariffs to be removed. It also wants to continue protections for its dairy industry and defend lumber exports to the United States, which have been hit with duties.

"We continue to work hard," Canadian Foreign Minister Chrystia Freeland said after meeting with U.S. Trade Representative Robert Lighthizer.

"There is good faith and good will on both sides."
Reuters reports that U.S. officials didn't comment after a meeting Wednesday, which happened after Trump said he was willing to drop Canada from NAFTA after reaching an agreement with Mexico. What a casual statement.
3rd Gear: Aston Martin May Put Women on Its Board Before Going Public
Bloomberg reports that Aston Martin, despite having a woman as president at its Americas arm, is severely lacking in women on the board. Because that's not a good look when a company is reportedly planning to go public, Bloomberg reports that Aston may try to add a woman to the board before doing so.
All nine directors at Aston are men, according to Bloomberg. That would make it one of around 10 companies without a woman on the board in the UK's FTSE 350 index, which is made up of the 350 largest British companies.
From Bloomberg:
A dearth of women on the board isn't the only hurdle facing Aston Martin: the 105-year-old company is looking for ways to make its lineup more appealing to both females and younger buyers. 2015's DBX crossover vehicle, aimed in part at a 30-something woman, was meant to widen its appeal after the maker of the iconic British sports cars found that only 3,500 vehicles — or 5 percent of the cars produced in its history at that time — had been bought by women.

That same year, Aston Martin also brought on Laura Schwab as president of its Americas business, though she isn't senior enough to rate a spot on the web-page profiling the 12 top executives — all men.
Funny how "Oh, there aren't women here" suddenly becomes a problem when it may come under scrutiny, isn't it? Not before that point or anything. Nope.
4th Gear: Honda Hurt Accord Sales in Canada by Relying on Good Press
Honda didn't do a big advertising campaign for the Accord in Canada, according to Automotive News, instead letting the car speak for itself through good press and word of mouth by owners. That apparently didn't work well.
Senior vice-president of sales and marketing at Honda Canada, Jean Marc Leclerc, told Automotive News the company didn't go wild with advertising because it thought it would get a boost from the positive talk. Instead, sales of the Accord are down 12.5 percent through the first eight months of this year compared to last year. From Automotive News:
Honda Canada sold 8,973 Accords in Canada through August, down from 10,243 cars — the previous-generation model — a year earlier. The Accord was faring worse than the Canadian car market as a whole. It also lost ground to its top competitor, the Toyota Camry, which saw sales rise 12.5 percent in that timespan to 9,973 units.

"We haven't put, perhaps, the advertising power behind the vehicle at launch like we normally do because we thought it would stand on its own with all the positive press it was getting," Leclerc told Automotive News Canada. "It hasn't to the extent that we expected. It's still doing well, but we were expecting things to be much better with the Accord."

Accord's U.S. sales haven't fared any better, falling 11 percent in August to 26,725 units and 14 percent to 189,942 units for the year to date.
Again, if we could just apply these "Nope, not advertising" feelings toward that annoying Chevy campaign, everyone would be better off.
5th Gear: Some of the World's Biggest Auto Markets Are Slowing Down

There's growing fear globally that car demand has peaked and is on the decline, according to Bloomberg. Almost every major automaker had declining deliveries in the U.S. in July, and other major car markets are in the same boat.
Here's the deal with China, according to Bloomberg:
Demand in the world's biggest auto market has fallen in the past couple months amid a worsening trade war with the U.S. that's left some consumers holding back from buying American-branded vehicles. China's economy also is showing signs of weakening, with the yuan declining and stocks in Shanghai falling 18 percent since the start of the year.
Here's some of what's going on in Japan, from Bloomberg:
Passenger-car sales in Asia's second largest economy are down 3.4 percent during the first eight months of 2018 compared with the same period a year earlier. Japan's rapidly aging population is contributing to more drivers giving up their licenses, while the costs of buying and maintaining a vehicle have led younger consumers to shun car ownership.
And here's some of the situation in Europe, from Bloomberg:
While Europe has been up overall, the region's four largest auto markets — Germany, the U.K., France and Italy — recorded zero growth in the first six months of this year. And the situation looks worse for late 2018: Ernst & Young has warned that German car registrations will decline after August due to a new testing protocol that companies have been slow to adapt to.
Bloomberg has more on all of those markets here.
Reverse: Volkswagen of America Leaves Michigan
Volkswagen of America moved its headquarters from Auburn Hills, Michigan to Herndon, Virginia on Sept. 6, 2007, according to History. Then-CEO of VW of America, Stefan Jacoby, told the Washington Post it was partly because all they saw there were the American cars of the Big Three from Detroit.
Jacoby said the company "want[ed] to work in an environment where you see your customers," and more people bought Volkswagens on the East Coast.
Neutral: Do Sales Slumps for the Honda Accord Make You Sad?

Look, big brands are what they are. It's hard to root for any of them. But the Honda Accord has faced sales slumps amidst the crossover obsession, and it's kind of sad. It's a great car and it has the option for a manual transmission, yet here we monsters are, neglecting it.