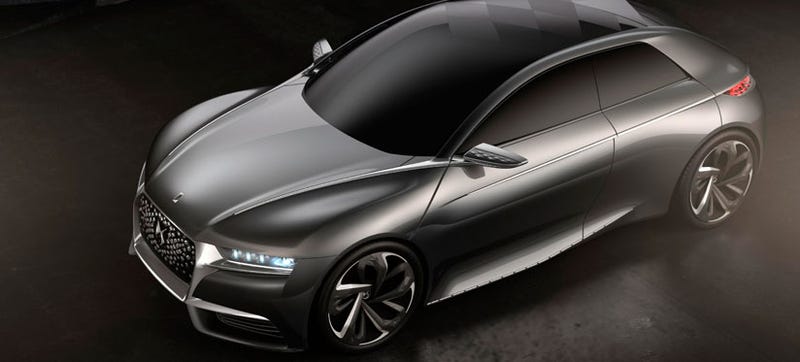 Citroën's DS brand is now separate from its parent, and it looks like it's just starting to flesh out ideas for a Golf-style hatchback. And man is it funky.
Let's take two looks at the interior of this concept, and then regroup. Deep breath?
One more.
Ok, now let's exhale. How's that for French?
If you're curious, those are Swarovski crystals in that interior fabric. Not that you can see this, but apparently the turn signals on this concept are sequential and the headlights have lasers. Laser headlights are so hot right now.
Now, Citroën is claiming that this is just a styling exercise, meant to establish trends in future designs.
I have heard this kind of line before, and it's BS.
Concept cars don't exist to test out future designs that are toned down for production. Car companies always design road cars first, then tone up their styling for a concept car. This DS Divine is likely some kind of future hatchback something. The dimensions nearly match the VW Golf, as CAR Magazine reports. How exactly that's going to flesh out is the mystery.
We won't see a car exactly like this, but we'll probably see a hatchback with some kind of close resemblance.
If the production car keeps some of the detailing, even a tiny bit of that bonkers interior, and a general sense of its pulled-back proportions, I'll be happy.
Photo Credits: Citroën, I mean DS