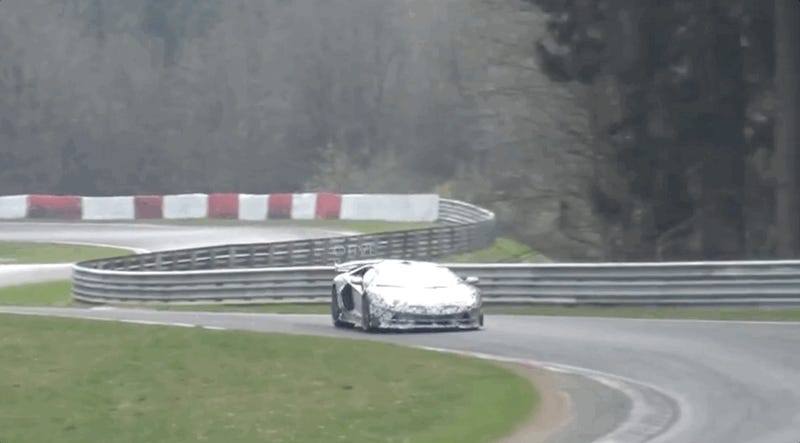 The first Lamborghini Jota was a modified Miura built in 1970 that, just a year later, burned to the ground. The next Jotas were modified Diablos built in the 1990s, which lacked rearview mirrors. What is (probably) the latest Jota? The beast you see above, a modified 2020 Aventador that is intended, like the Jotas of years past, to be a street-legal race car.
Or, you know, for it to run at extremely low speeds on the congested streets of the south of France. The Jota—pronounced with the "j" making an "h" sound—in all of its iterations has always been a set of performance upgrades, making the Lambo lighter, quicker and more fierce.
On the Diablo, as our own Raphael Orlove has documented, that meant "new ECU, new cams, a new intake, an astoundingly loud exhaust (all of which was good for nearly 600 horsepower out of its naturally-aspirated V12), fixed suspension, adjustable swaybars, plexiglass windows instead of glass, new ducting, vents and a gigantic wing."
The new Jota—the name could also still be Performante instead—seems to have tweaked aerodymanics, a different hood, a lighter suspension, and, probably, a V12 that makes close to 800 HP. (The Aventador SV makes a measly 740 HP.)
This will likely be the Aventador's swan song, and it'll be a fitting one, since Lamborghini's apparently trying to make it quicker than the Huracan Performante, which is the flashier and probably faster car at the moment.
Lamborghini also has an eye on Porsche, which set the record around Nürburgring in its 911 GT2 RS, beating the Huracan Performante's previous record, which, itself, had topped the Aventador SV. Porsche beat the Huracan's record by nearly five seconds, finishing with a 6:47.3 lap time around the 12.9-mile 'Ring. Lamborghini is now out for blood.