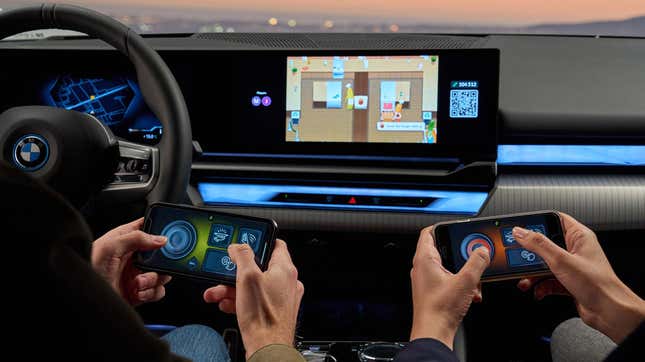 In-car gaming is one of those things that manufacturers want to believe will really take off, in spite of the fact we haven't seen much evidence to support it. Mobile and "casual" games seem like a decent fit, but then people already have access to those on their devices. Then there's Tesla, stuffing the power of a gaming PC into its cars for all those times you want to spend two hours in a parking lot playing The Witcher III. None of it sounds very enticing, but what the hell — BMW wants in, and the 2024 5 Series will be able to support a spot of light gaming in partnership with a service called AirConsole.

AirConsole is basically an app that houses a bunch of games, many of them multiplayer and indie titles, that you can access with a subscription. That sort of makes it like Apple Arcade, except unlike Apple Arcade, AirConsole allows you to project the game to a dedicated display while players use their own devices as controllers. The idea with the new 5 Series is that players will see the game on their car's infotainment screen, but use a phone or tablet, paired via QR code, to control their experience.
If you're a parent stuck in the car with your kids — and the car isn't moving, to be clear — you'll be able to pass the time with a range of "so-called casual games," as BMW mentions in its press release. One of those happens to be Overcooked, a co-op staple:
With AirConsole, players can play so-called casual games. These are games that are easy to pick up and play and intuitive to control. The selection available for the market introduction of the new BMW 5 Series saloon includes racing, sports, quiz and music quiz games as well as simulation, strategy, jump-and-run and puzzle games. The 15 or so titles available to play from the start include "Go Kart Go", "Golazo", "Music Guess" and "Overcooked". The portfolio of available games will be continually expanded.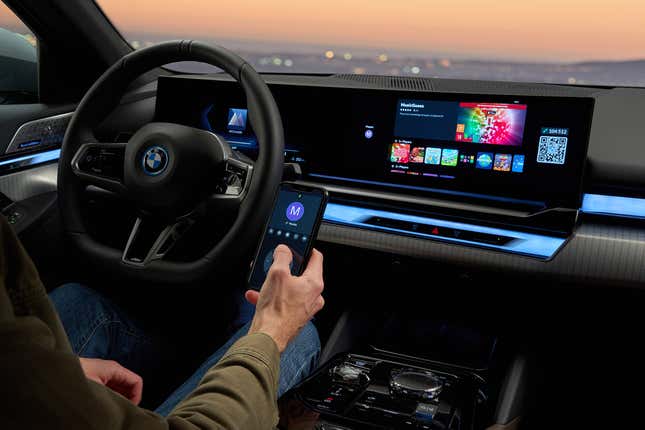 BMW Blog tried a demo of the feature themselves, and found the performance satisfactory. Games are small enough to be downloaded from the cloud, then stored and run on local hardware inside the car.
The thing is, the 5 Series' display isn't that much larger than an iPad's. And since chances are you or your child already has games on their tablet, what exactly is the benefit here? AirConsole offers limited, ad-supported access to some titles for free, but requires a $24 yearly subscription or $8 per month to explore its full library with the maximum number of players. One reviewer on the Google Play Store gave the service three stars, with a ringing endorsement to end all others: "The only thing is, there aren't many good games."
Jalopnik reached out to BMW to inquire about pricing, and more specifically if the automaker will issue a separate charge on top of AirConsole's own. While the company isn't offering full details yet, a representative did say AirConsole is "included in the 5 Series ConnectedDrive Professional for one year, and after that can be activated flexibly for a charge." This seems like one of these take-or-leave luxuries on a road trip, but they're not a heavy lift for BMW's in-car hardware, and someone might subscribe to them. So, here they are.