On Friday, NASCAR driver Jamie McMurray apparently blew out his Chevrolet's left rear tire and lost control in the last practice session before the upcoming race weekend at Talladega Super Speedway. He then collided with another vehicle, went airborne, and tumbled. And then just kept on tumbling. And tumbling.
The video below shows McMurray losing control in Talladega after an apparent tire failure. Shortly thereafter, Ryan Newman driving the white No. 31 Chevrolet T-bones McMurray and sends the No. 1 car flying through the air, at which point McMurray's vehicle actually rolls over top of Newman's car.
Eventually McMurray's Chevy hits a fence, and then continues tumbling until eventually, after many, many rolls, landing upright. In the NASCAR interview below, McMurray—who appears to be doing fine—describes the feeling of being in that crash.
"It's crazy like, how quiet the car gets," he says. He then admitted that he had his eyes closed, saying "I opened my eyes a couple times, but you can't tell what's up, and you can't really tell where to brace yourself."
Luckily, the car landed on its wheels, and for that, McMurray expresses his gratitude, saying "That's a huge fear...as a driver is, to have the car land upside down and be on fire, because you're so disoriented trying to get out upside down, and that's hard."
According to NASCAR, McMurray's team brought their backup car out after the crash, which is a good thing, because look at this:
G/O Media may get a commission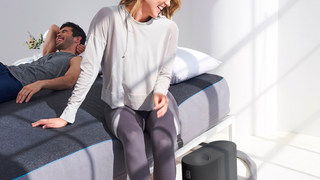 Eight Sleep Pod Cover
That doesn't look good.