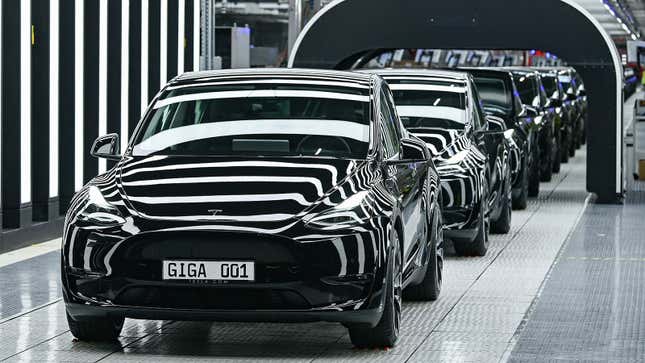 Its recent wave of price cuts around the world and the rumors that its CEO lost billions during his takeover of Twitter might lead you to believe that things are looking rocky for Tesla. But the electric car company is doing fine, and plans to plow some of the $15,000 profit it makes on every vehicle sold into a new factory.

Tesla already has two manufacturing sites here in the U.S., as well as another in Germany, one in China, and maybe one in Mexico sooner or later, too. Now, the EV maker is reportedly eyeing a second European site with plans in place for a new factory in Spain, according to Reuters, citing local newspaper Cinco Dias.
Reuters says that bosses from the electric car manufacturer are in talks with regional government leaders from Valencia in Spain to build a new factory in the country. According to Reuters:
The company's total investment in the factory could surpass 4.5 billion euros ($4.83 billion), [Cinco Dias] said.

A spokesman for Valencia's regional government told Reuters it had held meetings and conversations with an unidentified company about a "large automobile investment," but declined to give more details, citing the confidentiality of the negotiations.
Tesla has also so far not commented on the rumors.
The company's investment in Spain would mark its second major site in Europe, following the opening of its Berlin factory last year. The electric car company already has plans to expand output at that site to up to 1 million vehicles per week.
If Tesla's expansion into Spain did turn out to be true, it would mark the second car company to announce major investment in the country in recent months. In March, German car maker Volkswagen said it plans to invest up to $3.2 billion in a new battery facility in Valencia.