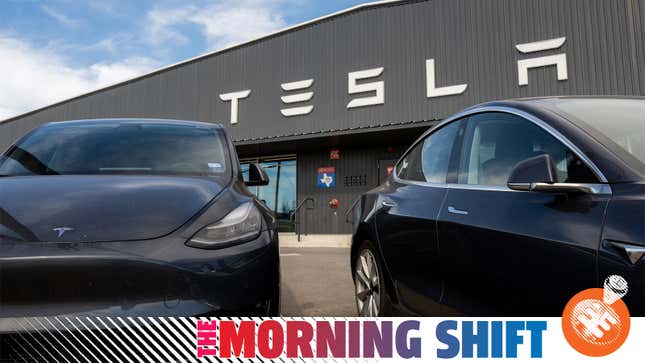 Tesla did the thing again, Rivian is plotting out its future charging network and General Motors has paid the U.S. government to settle a hiring discrimination case. All that and more in this edition of The Morning Shift for Wednesday, April 19, 2023.

1st Gear: Yours For $39,990
Every time you think Tesla's cut its last price, another comes down the pike. The EV maker just slashed $3,000 off three trims of the Model Y and $2,000 off the base Model 3. It's Tesla's second reduction this month and the sixth since the start of this year, that we're little more than a third of the way through. The Model 3 — a car that cost just shy of $47,000 a year ago — now starts at $39,990 before shipping. How low will it go? From Bloomberg:
After several rounds of reductions, the starting prices of Tesla's two high-volume models are substantially lower than they were to start the year. The base Model Y is 29% cheaper, and the Model 3 can be had for 15% less.

Musk has pushed back against media coverage of the cuts. "We're not 'starting a price war,'" the chief executive officer tweeted April 15. "We're just lowering prices to enable affordability at scale."

Following Tesla's first lineup-wide price cuts in January, Musk said weeks later that orders were running at almost twice the rate of production. But the carmaker was unable to sustain that dynamic — first quarter deliveries rose about 4% from the prior three months, and Tesla produced almost 18,000 more cars than it handed over to customers.

Despite a second set of price cuts for the Model S and X in early March, Tesla delivered just 10,695 of those vehicles in the quarter, the lowest since the third quarter of 2021.
After Wednesday, the base Model Y costs $46,990; the Model Y Long Range costs $49,990; and the Model Y Performance costs $53,990. The prices for all of these vehicles get even lower if you factor in federal tax credits. The cheapest Model 3 and Y qualify for the $3,750 discount, while the higher-end trims of both can utilize the full $7,500 under the new criteria that took effect this week.
The news sparked a 2.8-percent dip in Tesla's share price before trading on Wednesday morning. It just so happens that Tesla is due to report its first-quarter earnings later today, and while it's undeniable that the company is growing, it's the pace relative to analysts — and Elon Musk's — lofty expectations that may put a damper on the occasion. From Automotive News:

The EV maker likely sold 161,630 vehicles in the U.S. in the January-March period, according to Cox Automotive, for a 25 percent increase compared with a year earlier. But it was still far below Musk's 50 percent global growth target.

Tesla doesn't break out U.S. sales but reported global deliveries of 422,875 in the first quarter, a 4.3 percent increase compared with the previous quarter. The small quarter-on-quarter growth suggests that price cuts were necessary to maintain momentum amid rising EV competition.
2nd Gear: The Rivian Adventure Network
Did you know Rivian is developing a charging network of its own? So far, the bulk of the stations are located in only California and Oregon. But the electric truck maker wants to grow its 30 sites today into 600 across the U.S. and Canada. And while they're currently only limited to Rivian owners through software (the company's vehicles use the same CCS plug as almost everyone else), in time they'll be available to EVs of all makes and models. Courtesy Auto News:
"In terms of independent networks, there are only a couple out there — outside of Tesla — and they're not very good," [CEO RJ Scaringe] said. "A lot of them have real reliability problems or uptime problems and are not very predictable. So this is one of the reasons we're investing so much money and so much capital into building out a very large network."

Rivian is planning a network of 600 charging stations within two years, he said, starting on the east and west coasts and then connecting those across the U.S. and Canada.

According to Rivian's website, the EV startup plans to have 3,500 fast chargers, also referred to as dispensers, at the 600 sites in the U.S. and Canada, for an average of about six chargers per station. Scaringe said some stations will have more than six.

The fast chargers can deliver more than 200 kilowatts currently and will be able to deliver more than 300 kW in the future, Rivian said. The chargers can add up to 140 miles of range to Rivian's R1T pickup and R1S crossover in 20 minutes, according to the automaker.

Rivian is also building out a network of slower Level 2 chargers that are designed for hourslong charging sessions at hotels, restaurants and recreational spots where its customers frequent. Those "Waypoints" units are open to all EVs now, Rivian said. Tesla also has a network of Level 2 chargers that it calls destination chargers.
Rivian CFO Claire McDonough stated the company may begin receiving federal funds to build out its chargers next year. Next year may also be when the company opens up its infrastructure to other brands, though the timeline isn't definite yet.
3rd Gear: EVs in N.J.
New Jersey currently provides $4,000 to people who buy or lease electric cars, which has encouraged the uptake of EVs in the Garden State. It's a very popular program, which is why it's about to run out of money two months before the state's fiscal year ends on July 1. From the Associated Press:
The Charge Up New Jersey program has disbursed an estimated $35 million for the fiscal year ending this July, according to the state's Board of Public Utilities. The board said Monday it was putting the program on pause because all the earmarked funding will soon be disbursed, based on current rate of application approvals and eligible vehicle orders.

Now in its third year, the program gives state residents up to $4,000 right when they buy or lease a new electric vehicle. On average, EVs now cost more than $58,000, according to Kelley Blue Book, a price that's beyond the reach of many U.S. households. Federal tax credits and other incentives are designed to bring prices down and attract more buyers.

New Jersey's utility board estimates the program will support the purchase or lease of more than 10,000 vehicles this fiscal year, and it should be back up and running again once the new fiscal year starts July 1. A spokesperson for the Board of Public Utilities, Peter Peretzman, said Tuesday he wasn't sure if there are plans to increase the program's funding for next fiscal year.
According to officials, EVs accounted for 8 percent of new car sales in New Jersey last year — more than 2 percent above the national average — and this program has provided $90 million in incentives since it started in May 2020. U.S. Department of Energy data from last June placed New Jersey sixth nationwide by number of EVs registered. This is what happens when you make EVs cheap to buy.
4th Gear: GM Admits Nothing
General Motors will pay but a mere $365,000 in civil penalties to the United States for allegedly discriminating against green-card holders applying for jobs at the company, the U.S. Department of Justice announced Tuesday. Via the Detroit Free Press:
The Justice Department said that for some period prior to September 2021, GM, under its guidelines for meeting federal rules regarding the export or sharing of certain products, technology and technical data with anyone considered a "non-U.S. person," required lawful permanent residents, otherwise known as green-card holders, to show an unexpired foreign passport to be hired.

By doing so, the department said GM imposed "a discriminatory barrier" on those job candidates, improperly combining verification of employment documentation with export compliance and "unnecessarily requiring that newly hired non-U.S. citizens provide specific and unnecessary documents to prove their permission to work."

Under the law, the department said, U.S. persons don't only include U.S. citizens but U.S. nationals, lawful permanent residents, refugees and asylees. Non-U.S. persons are those who are present in the country but do not meet those other definitions. The Justice Department also issued new guidance to companies on how to avoid discrimination while complying with export control laws.
General Motors admitted no wrongdoing in a statement relayed by Reuters. However, the company welcomed the "opportunity both to avoid litigation and to refine and clarify our internal administrative processes to further improve the employee experience." Weird thing to say if you did nothing wrong, but OK!
5th Gear: Robotic Pods in San Jose
If you want to know what the future of airport shuttles could look like, San Jose just awarded a contract to a startup that will operate a network of autonomous robotaxis that will travel on their own roads to ferry passengers between Mineta International Airport and the city's Diridon Station transit hub. The proposal from Glydways Inc. beat out a wealth of alternative bids from electric bus and streetcar firms, as well as Elon Musk's Boring Company. From Bloomberg:
Instead, the city selected a team led by developer Plenary Americas and Glydways Inc., an untested seven-year-old startup based in South San Francisco. The companies pitched a network of automated cars that operate on 5.5-foot-wide paths instead of the typical 12-foot-wide lanes on streets. City officials were intrigued by the novelty, efficiency and low carbon footprint of the project—as well as the promised savings relative to building conventional mass transit. "What is potentially exciting is taking a project that in other cities has cost multiple billions and structuring it around new technology and a public-private partnership," says San Jose Mayor Matt Mahan. "In a sprawling city like San Jose, local light rail is a tough proposition."

The idea behind [personal rapid transit] as an alternative to cramming people into subway cars or trams has been kicking around for the last half-century. PRT involves small, automated podlike cars or mini-trains, operating in tight formation, merging and de-merging to ferry people between stations on a network of roads separated from regular car and pedestrian traffic. In the 1960s researchers at a congressionally funded nonprofit, the Aerospace Corp., studied the notion and published a book about it. In a 1972 speech to Congress, President Richard Nixon lobbied for federal PRT development, arguing, "If we can send three men to the moon 200,000 miles away, we should be able to move 200,000 people to work 3 miles away."
Nixon's rationale is one of those things that sounds like common sense on the surface, though if you consider the gross oversimplification of the infrastructure challenge posed and logistical hurdles for even a second, it kind of falls apart. Glydways argues its solution of giving the tiny self-driving cars their own tiny roads makes sense for a limited use case like a transit shuttle — at least when "build the damn train" is evidently too unsexy a proposition:
Glydways's primary backer, venture capitalist Vinod Khosla, is equally rapturous discussing the potential of PRT. A co-founder of Sun Microsystems and an investor in such companies as Stripe, DoorDash and OpenAI, Khosla wrote a paper on his 60th birthday in 2015 that included a paean to autonomous electric cars operating on private roads in an on-demand network. He met [Glydways founder Mark] Seeger a few years later and transferred his own PRT patents to the startup, which has so far raised $40 million, with Khosla Ventures as the majority investor. (The firm also backed Hyperloop One, another novel transit idea that's failed to live up to its initial hype.)

If they're widely deployed, self-driving cars from companies such as Waymo LLC and Cruise LLC will only increase congestion on regular roads, Khosla argues. They "solve the individual problem but make the societal problem much worse," he says. "They also have to handle every circumstance including chickens crossing the road. We greatly reduce the problem in complexity and with much cheaper vehicles."
Will this get off the ground? Who knows! There's a lot of red tape and pre-approvals that have to be made before Glydways can get to work. If it doesn't pan out, hey — they could always just build the damn train.
Reverse: Veyron Becomes a Household Name
It was on this day in 2005 — 18 years ago — that the Bugatti Veyron unseated the McLaren F1 for the record of world's fastest production car, topping out at just shy of 253 mph on Volkswagen's Ehra-Lessien test track. The run was performed by Uwe Novacki, Volkswagen's lead driving safety instructor. Here's how he remembered it, via an article Bugatti published in 2020:
During the first attempt, Novacki only reached 380 km/h (236 mph). A few days later, in good weather conditions, he once again put on his fire-proof racing suit and safety helmet and strapped himself into the Veyron. "The car was very quiet, perfectly tuned, and I could immediately tell that the engine was really giving off a lot of power," says Uwe Novacki.

To reach top speed on the straight at Ehra-Lessien, he also had to drive really quickly into the steep bends. The problem: the centrifugal forces caused the vehicle to press down hard on the suspension. If Novacki drove too fast, the suspension would compress too much and become fully extended. Pressure would then be transferred to the tyres and handling of the car would become unstable. "I cautiously approached the speed range. On the first lap, I drove around the steep bend at 230 km/h which was too fast and the car became unstable. I took the next bend at 220 km/h and the car felt more stable", he explains. Novacki continues: "Before I came out of the bend, I accelerated as hard as I could to get the full 1,001 PS out of the Veyron's engine. I was so impressed with how stable, effortless and safe the car felt at 400 km/h."
Neutral: Hero to Zero to Hero
The Veyron was the hypercar that made everything look easy, which is funny because its birth certainly was not, as our old pal Raphael Orlove wrote some years back. I think we're all kinder to the Veyron now, in the same way that we now reflect on the Carrera GT as if we didn't try to forget it existed a decade ago. What is it about cars that are five to 10 years old that makes us hate them so much?