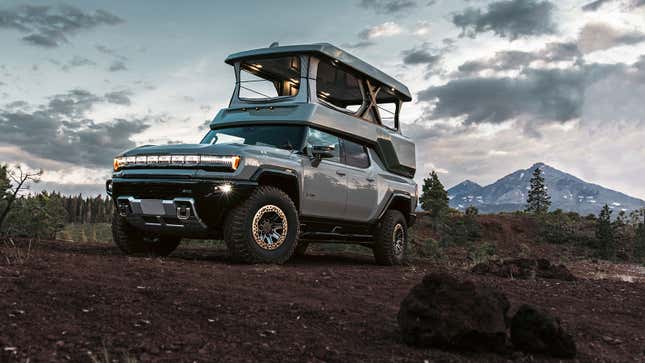 If you're the kind of person that likes to head for the hills and escape the troubles of the real world with a night under canvas, then there's a good chance you're worried about the state of the world right now. If that's the case, you might be looking for a way to cut the emissions from your camping trip. That's where the GMC Hummer EV comes in.

No, you're not reading that wrong, the gargantuan GMC Hummer EV has been transformed into a wild overlanding rig that its creators say offers all kinds of exciting "zero-tailpipe emission overlanding possibilities." 
The creation you see here was developed by Earthcruiser, a company that previously offered overlanding trucks based on Ford's Superduty trucks and other dedicated vehicles. For its new creation, the company took the heaviest EV you can buy today and made it even heavier.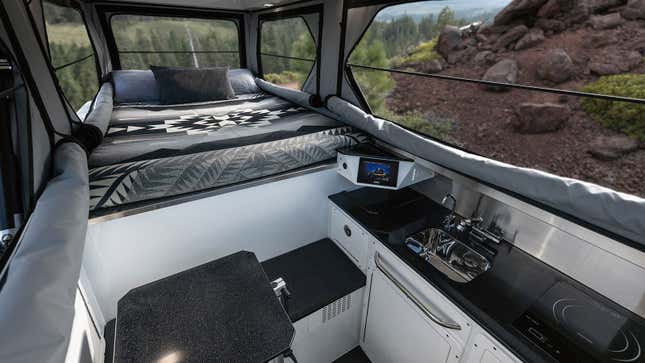 The catchily named GMC Hummer EV Earthcruiser Upfit sees the least efficient EV you can buy today fitted with a camping pod in its rear bed. Inside the pod you'll find a neat looking kitchen, which includes appliances like a stove, a full-size bed and a flat-pack toilet.
On the outside, there's also a set of storage boxes to keep your supplies in, and the camper has an outdoor shower as well. It really is quite the creation.
The roof of the pod can be popped up to make a 117-inch tall standing area, and the top of the pod features an array of solar panels to keep all your gadgets running while you're off grid. The camping pod itself is made from carbon fiber in a last dash effort to control the weight of this thing, which, don't forget, starts out as a 9,000 pound truck.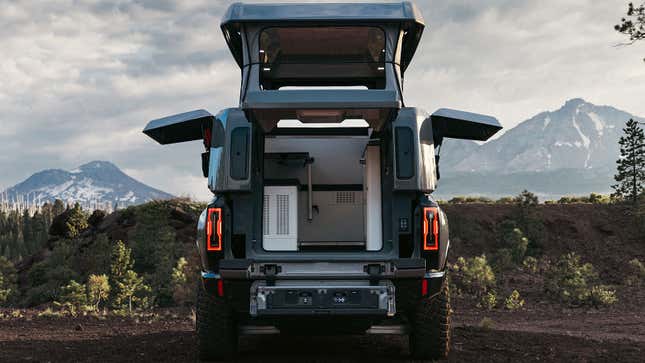 From 2024, the camper upfit will be available to all 904 Hummer EV owners that have received their truck so far. There's no word yet on what the cost of the conversion kit will be, but as the Ford-based Terranova camper retails at around $350,000, you can expect this Hummer kit to be equally pricy.