This year's most dominant team in Formula One and its new reigning champion won't have a home grand prix next year. The German Grand Prix is off the calendar for next year, reports Fox Sports. This cuts the F1 season down to 20 races, with Brazil left as the only unconfirmed date on the tentative schedule.
While 2017 is technically the Nürburgring's turn to host the race, the German Grand Prix was tentatively listed at Hockenheim instead. Low ticket sales at the grand prix and the high costs of doing anything with Formula One make it a fairly unattractive proposition for the financially embattled Nürburgring. This year, neither circuit was willing to pay the hosting fees, reports Deutsche Welle.
Currently, there are four German drivers competing in Formula One—the most from any one country—so perhaps F1 needs to take a long, hard look at what's keeping German fans away on race weekends. (Too expensive? Just a thought.)

Naturally, Mercedes team boss Toto Wolff is among those most disappointed in the German Grand Prix's disappearance. Wolff and Mercedes have offered financial help to the embattled grand prix before, he told Autoweek, and they'd be willing to do it again.

The final schedule is set to be approved by the World Motor Sport Council today. Other races originally listed as tentative, including the Canadian Grand Prix and the Italian Grand Prix at Monza, have been confirmed, reports Fox Sports. Monza signed a deal to host the Italian Grand Prix through 2019 Tuesday, reports the BBC—the last day before the WMSC's deadline.

G/O Media may get a commission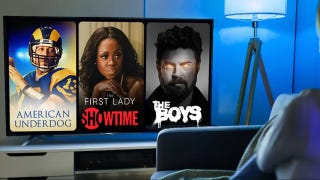 UNDER $1
99¢ Prime Video Channels
Some dates may be rearranged today, per Fox's report, with Hungary expected to move from July 23 up to the former German Grand Prix's date of June 30. Germany's removal from the tentative schedule would have left a long four-week gap between races if they didn't move something into its place.

Singapore and Malaysia will likely move further apart on the calendar, with Singapore moving back-to-back with Japan. The future of both Singapore and Malaysia's grands prix have been put into doubt recently. Singapore has asked for a reduction in hosting fees, as their contract was initially written up without the added expense of lighting the track, per Fox Sports. Additionally, the Malaysian government recently released a statement that 2018 will be their final grand prix.

Against all common sense, the two North American rounds of Austin and Mexico may be consecutive race weekends yet again. That may make logistics easier, but the circuits' close geographical proximity to each other has the potential to affect attendance at both. Fans who might otherwise attend both rounds often must choose one or the other with the dates so close. Circuit of the Americas chairman Bobby Epstein publicly urged F1 to have a gap of at least three to four months between the two races, according to Eurosport.