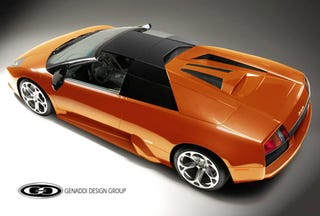 The cheeseheads at Genaddi Design Group, who were responsible for the wicked FORD GTX1, have turned their customized sights on Lamborghini's Murcielago Roadster. As most owners of the open supercar are susceptible to the whims of the weather, Genaddi has developed a six-piece carbon-fiber hardtop that is watertight and easily adjusts into open, closed, targa or t-top configurations. At $26,000, it's not the cheapest upgrade, but is a value if you consider the extra time you'll get to spend with your expensive toy. Press release and photos below:


Press Release for Lamborghini Murcielago Roadster owners
Effective today Genaddi Design Group, a company in Green Bay Wisconsin in the United States, builders of the Ford GTX1 Roadster have released the following renderings of a removable carbon fiber hard top that they will be producing for the Murcielago Roadster owners. The top is designed to fit easily in the front bonnet of the car and go on and off the car in about one minute making the ownership experience of the Murcielago Roadster much more rewording. Having a top that can be stored in the car for easy on and off access to bad weather makes unplanned trips more enjoy and easier to imagine.
Let's say you live in Florida, well as you know it can be beautiful one minute and raining the next making it imposable to take the Murcielago anywhere without having a place to duck in when the rain hits. With this 6-piece hard top which includes the rear glass window, you have the option of enjoying the car a few different ways, first of course as a Roadster, than as a hard top, than as a T-top and lastly as a Targa top.
All pieces come finished in either dull or gloss finish of carbon fiber but not painted. Color matching without the car is far too hard so when you get it and want it to match your car take it to your local dealer and they will accommodate you. The top is very light weight and easy to handle for most anyone, it is not difficult to figure out and uses a proprietary system for keeping it water tight. A similar top was tested on the Ford GTX1 to over 185 MPH with no problems of it blowing off.
The top will be available directly from Genaddi Design Group or through your Lamborghini dealer. It is warranted to be free from defect with a cost of $26,000. It you would like to get on the list for one please contact Mark Gerisch at Genaddi Design Group to place the order. Production will start in May of 2008 and be sold on a first come bases. [Source: Genaddi Design]