Emissions rules to cover all 50 states, automaker profits getting hit by new steel and aluminum prices and Volvo's having a rough time with investors. These stories and more on The Morning Shift for Wednesday, July 25, 2018.

1st Gear: Automaker Tax Savings are Getting Wiped Out by Tariffs
President Trump filled corporations with joy by slashing their tax burden to a significant degree, hilariously assuming they would then take those savings and reinvest them into the workplace and the workers. Instead, corporate America bought a whole lot of its own stock. Imagine that.
Since then, Trump passed a slate of tariffs, including those on steel and aluminum, which, uh, doesn't bode well for carmakers looking to buy back their own stock. And it's having a direct impact on profit outlooks. Here's The Detroit News on General Motors specifically:
General Motors Co.'s second-quarter profits dropped 2.8 percent compared to the same period a year ago due primarily to rising steel and aluminum prices, and currency devaluation in South America, the automaker reported Wednesday.

The company made $2.4 billion in the second quarter. While GM sources more than 90 percent of its steel and aluminum in from the U.S., costs of those domestic materials have risen as U.S. President Donald Trump levies tariffs on foreign steel and aluminum. The rising costs of those materials — even those sourced domestically, which increased when foreign prices went up — was more than GM had anticipated.

The automaker adjusted its full-year outlook for 2018 partly as a result of the commodities cost and unfavorable foreign exchange impacts on Argentine and Brazilian currencies. GM said Wednesday its full-year diluted earnings per share would come in at around $5.14, and an adjusted free cash flow of roughly $4 billion. GM had previously forecast earnings in the $6 per share range.
G/O Media may get a commission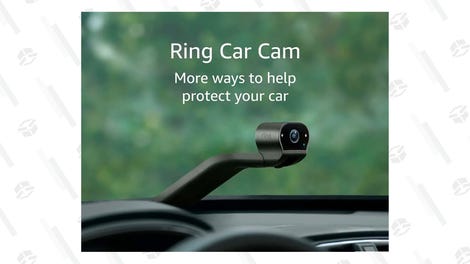 And more from Bloomberg:

The hit in 2018 from the steel and aluminum tariffs enacted in March is larger than the first quarter tax savings for General Motors Co., Ford Motor Co. and Fiat Chrysler Automobiles NV, according to data compiled by Bloomberg and estimates provided by Nomura analyst Anindya Das. Assuming approximately the same tax savings from a lower corporate rate each quarter, the steel and aluminum tariffs could eat up anywhere from about a third to well more than half of the tax benefits in 2018, the Bloomberg analysis shows.

"The steel and aluminum tariffs hurt," said Ed Cohen, Honda Motor Co.'s vice president for government and industry affairs. "The tax bill was intended to spur economic activity and this will have the opposite economic effect."
Another way to "spur" economic activity is for automakers to take their extra cash lying around—they'll still have plenty of it left despite the tariffs—and give it to their workers.
2nd Gear: A One-Size Fits All Solution for Emissions?

The Trump administration is preparing this week to introduce a new plan for car emissions that few—including the automakers—are particularly jazzed about.
Expected to be introduced as early as Thursday, the plan from Trump's Environmental Protection Agency is the culmination of an effort that began when Trump won the election, with automakers clamoring for him to wind back some of the standards put it to place by former President Barack Obama. Trump installed a team that took them literally, and now automakers are squeamish about the whole thing, namely because it goes way further than they ever wanted.
Particularly, that includes a plan to revoke California's longstanding waiver under the Clean Air Act to set auto emission standards for cars—standards followed by a dozen other states, comprising 40 percent of the car buying public.
The aspect of the proposal trickled out earlier this week, and on Tuesday, current EPA Chief Andrew Wheeler all but confirmed it, reports Reuters:
Wheeler also said the agency wanted a "50-state solution" to the nation's vehicle emissions standards, as the EPA opens the door to weakening Obama-era efficiency targets over the objections of California.

President Donald Trump's administration is expected as early as Thursday to propose revoking California's power to set state vehicle emissions rules, setting up what is likely to be a protracted legal battle between the state and Washington.

"We don't want to see two different standards for the country," Wheeler said.
Wheeler says he met with the head of California's Air Resource Board to share their position, which I'm sure went over tremendously well. California has vowed to wage a protracted legal battle, if Trump's team moved to revoke its authority to set its own standards, and that leaves automakers staring down the prospect of less-stringent standards being enacted at the federal level, while California's standards are left in place as a court case is fought.
Should be fun.
3rd Gear: Sergio Marchionne's Death Puts FCA Chairman Into Limelight
With Sergio Marchionne's health taking an abrupt turn for the worse in recent days before his death early this morning, Fiat Chrysler's chairman and heir of the Agnelli family that controls the Italian automaker, John Elkann, has been taking more of a public leadership role. Previously, he seemed fine ceding that role to the much more bombastic Marchionne. That may now change.
A story from the Wall Street Journal captured the dynamic between Elkann and Marchionne, and just how much the latter meant to former.
Here's a snip:
Mr. Elkann inherited a heavily indebted company that was making inexpensive, unprofitable cars and had incurred almost €6 billion ($7 billion) in losses over the previous two years. In 2004, Mr. Elkann became Fiat's vice chairman. That same year, with the support of family advisers, he hired Mr. Marchionne, who had come to the family's attention for his leadership at a small Swiss company owned by the Agnellis.

During a dinner overlooking Lake Geneva, Mr. Elkann asked Mr. Marchionne to join FCA. The two drank grappa and smoked late into the night

During his long tenure at FCA, Mr. Marchionne—a Canadian-Italian chain-smoker who loved to play poker late into the night—often overshadowed Mr. Elkann, a soft-spoken polyglot who was born in New York and initially shunned the spotlight.

Mr. Marchionne acted as a lightning rod, absorbing pressure from banks, shareholders and the media while Mr. Elkann appeared at shareholders' meetings and key events, but rarely spoke publicly. As he gained experience, Mr. Elkann made more public appearances and in 2010 became Fiat chairman.
RIP.
4th Gear: GM Launching A Turo-Like Thing

GM, in its quest to position itself as the preeminent major automaker of the future by doing all things mobility at once, has a plan to utilize its car-sharing platform called Maven in a way that's familiar to anyone who's used Turo. It's going to let GM owners rent out their own GM cars, which is Turo.s
Here's the gist, via The Detroit News:
General Motors Co.'s Maven car-sharing platform is rolling out a peer-to-peer option in Detroit, Ann Arbor and Chicago.

Owners of model-year 2015 or newer Chevrolet, Buick, GMC or Cadillac vehicles can make money on their cars when not in use by enrolling in the peer-to-peer program through Maven.

GM vehicle owners looking to list their vehicle on the Maven app will need to go through a short "onboarding" process. A Maven technician installs a device in the car that makes it compatible with app and allows access for potential renters.
After the beta period in those three cities, it plans to expand elsewhere.
5th Gear: Volvo Cars Isn't Being Well-Received by Investors
Volvo's overlord, Geely Holding Group, is trying to organize an initial public offering for the carmaker, but apparently it isn't going over well with potential investors, according to Bloomberg.
Select institutional investors have indicated the Swedish carmaker is worth about $12 billion to $18 billion in early meetings to discuss an initial public offering, the people said, asking not to be named as the deliberations are confidential. China's Zhejiang Geely and Volvo Cars had discussed a value of $16 billion to $30 billion, people familiar with the matter said in May.
Math isn't my strong suit, but I know 18 is less than 30, and so I can't imagine Geely's terribly excited about the news.
A mismatch on the automaker's worth could mean Volvo Cars stays private for longer, the people said. Zhejiang Geely had sought a significant premium to the multiples commanded by other automakers, including Daimler AG and BMW AG, they said.
Volvo's made strides to embrace electrification and autonomy, key things that enrapture bloodless investors who want something to be excited about. But apparently that's not enough, unless you're named Tesla.
Reverse: I Didn't Know About This Until Now

https://www.history.com/this-day-in-history/henry-ford-writes-fan-letter-to-mahatma-gandhi
Neutral: A One-Size Fits All Policy
The auto industry certainly doesn't like the idea of revoking California's authority to set emissions. It's an odd arrangement to be sure, but it's credited with helping to clean up California's air pollution in recent decades, and there's that whole idea of "states's rights." Do you think this plan is going to be problematic?