Good morning! Welcome to The Morning Shift, your roundup of the auto news you crave, all in one place every weekday morning. Here are the important stories you need to know.

1st Gear: EPA Reportedly Wants To Take California's Fuel-Economy Power
The battle between California and the Trump administration has been a long one already, and it's hard to imagine it'll get better anytime soon. Basically, California, a state known for cleaner-vehicle incentives, wants to keep rising fuel-economy standards set by the Obama administration around so we don't all destroy the Earth, and the Trump administration wants to freeze them.
Not only is California a huge car market, but more than a dozen states follow its regulations, so it has a great deal of power here, and has for decades.
California has even said it'll keep the Obama-era regulations even if the new administration makes changes to them, according to Bloomberg. They're not getting along.
G/O Media may get a commission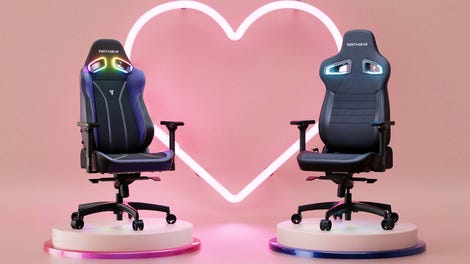 Up to $150 off
Vertagear Gaming Chairs
It sounds like the fight might have just gotten even worse, because the report from Bloomberg cites unnamed sources familiar with the matter as saying a joint proposal by the EPA and U.S. National Highway Traffic Safety Administration to freeze fuel-economy standards and revoke California's abilities to set its own fuel-economy standards is going under review by the White House.
From Bloomberg:
NHTSA also proposes freezing vehicle fuel economy standards at 2020 levels through 2026, according to a second person familiar with the proposal. According to an earlier draft, that would halt fuel efficiency requirements at a 37-mile-per-gallon fleet average instead of increasing to roughly 50 mpg by 2025 as envisioned under the Obama standards.

NHSTA also proposes attacking California's authority in a manner different than the EPA, asserting that the 1975 law creating the first fuel economy standards prohibits states from enacting their own rules.

The White House will vet the proposal and consult with federal agencies before formally unveiling it in the coming weeks.

Meanwhile, the EPA's 44-member Science Advisory Board voted Thursday to review the rollback — among other actions taken by the agency — amid concerns the move wasn't sufficiently justified.
The information on the proposal is based off of sources, remember, as it isn't public yet. We'll probably find out the details soon enough, though.
California and 16 other states sued to try to stop the Trump administration from changing the standards in May, and even automakers are trying to convince the administration to chill out with the fuel-economy rollback. The EPA and NHTSA had no comment on the reports, according to Bloomberg.
2nd Gear: BMW May Source More U.S. Steel After That Tariff Move
The Trump administration has started its trade war, announcing metals tariffs Thursday that will, of course, raise the price of cars. Mexico, Canada and the European Union put out retaliatory tariffs almost immediately afterward.
But BMW said Friday that it may, at least, up its sourcing of steel from the U.S. for its American plant after these tariffs. That U.S. plant in Spartanburg, South Carolina is BMW's largest in the world, according to Reuters, but don't get too excited—it already sources most of its steel from America, the report said.
From Reuters:
The German carmaker's plant at Spartanburg, South Carolina, is its largest in the world, and sources more than 70 percent of its steel locally.

"We have a target to increase the U.S. percentage, which is dependent on the availability of appropriate specification and quality," BMW said in a statement.
Handfuls of, you know, countries might be mad at the U.S. now, but at least we've got increased BMW steel purchases! Yeah!
3rd Gear: Japanese Supplier Agrees To Pay $12 Million Price-Fixing Fine
Japanese automotive supplier Maruyasu Industries agreed to pay a $12 million fine after pleading guilty for conspiracy charges of price fixing, bid rigging and customer allocation of steel tubes, Automotive News reports. The tubes were used in vehicles sold in the U.S. and elsewhere, mainly for fuel distribution, braking and certain chassis and engine systems in light vehicles, according to the story.
Here's more on the charges, from Automotive News:
According to the plea agreement in the U.S. District Court for the Southern District of Ohio, Maruyasu participated in anticompetitive practices for steel tubes sold to automakers in Japan and installed in vehicles sold in the United States, a violation of the Sherman Act.

The indictment also charges Maruyasu's U.S. subsidiary, Curtis-Maruyasu Inc., and four sales executives. Those charges were dismissed in exchange for their cooperation in any future prosecutions related to the conspiracy, the Justice Department said.

The Justice Department has been prosecuting auto suppliers, most of them Japanese, for antitrust crimes for about eight years. Before Thursday's announcement, the investigation had yielded $2.9 billion in criminal fines and another $1.34 billion in civil settlements. Including Maruyasu, 50 companies have been charged along with 66 executives. The government said 32 individual plea agreements have been reached and 34 executives remain under indictment.
Maybe one day everybody will stop cheating. Probably not.
4th Gear: Here's What FCA Says The Next Five Years Will Look Like

Fiat Chrysler Automobiles had a big investor meeting in Italy on Friday to tell all of its wealthy buddies what the company has in store for the near future. It's all part of the company's five-year plan and CEO Sergio Marchionne's exit strategy as he goes into retirement.
Last time FCA announced a five-year plan in 2014, there was a lot the company didn't go through with. But hey, it's a new year and a new chance to go back on promises. Here's some of what may or may not happen in the next five years.
Let's see if it does happen.
5th Gear: Well, There's A Positive Note For Chrysler
Chrysler has not had the best week, or year, or couple of years—details, details. Anyway, after reports going around that Fiat Chrysler Automobiles could axe the Chrysler brand and an FCA spokesperson denying it, Bloomberg reports that at least one thing is going right over there this week: Waymo's buying 62,000 Chrysler Pacifica plug-in hybrid minivans to add to its fleet of autonomous cars.
Waymo already has about 600 Pacificas acting as ride-hailing vehicles in several cities where the technology is being tested with non-paying riders, according to Bloomberg. Going from 600 to 62,000 is a big commitment. From the story:
The announcement moves Waymo another step out in front in the race to launch a fleet of autonomous automobiles for a public ride-hailing service, planned to debut in Phoenix later this year. Earlier on Thursday, a rival added financial heft: Japan's SoftBank Vision Fund agreed to invest$2.25 billion in General Motors Co.'s autonomous-vehicle unit. [...]

Fiat Chrysler and Waymo are also beginning discussions about using Waymo's self-driving technology in Fiat Chrysler-manufactured vehicles that would be available to retail customers, according to a statement.

The companies didn't provide a list price of the retail model. Waymo has said its package of sensors is far cheaper to produce than others, but any retail versions of fully driverless cars would still be expensive and would likely be sold on par with luxury vehicles or heavily subsidized by the companies.
At least the Pacifica gets some love, right?
Reverse: The General Motors Bankruptcy
On June 1, 2009, General Motors filed for Chapter 11 bankruptcy protection. It'll be a decade since then next year. We're all getting old, huh?
Neutral: Will FCA Deliver Everything It's Promising Over The Next Five Years?
Or will we all sit around in 2023 and dream about what could have been?