Are you piping hot mad? Fiat Chrylser's departing chief Sergio Marchionne said last summer that Maserati would lead the automaker's way into the electric vehicle future, surely pissing off traditionalist fans of the brand. Now we have an idea of what that might look like: 0-60 sprint in under 2 seconds, and a top speed of 186 mph. If they pull it off, that will be pretty amazing.
The announcement was made in Italy today at FCA's five-year plan presentations to investors, so as with all of these, take it with a grain of salt. Five years is a long time.
I'll note that Maserati execs first started hinting at how an electrified plan could materialize, it was a bit of a breath of fresh air. For one thing, they didn't want to make Tesla-killers. Refreshing! But having never sold an EV before, Maserati came out the gate and still took aim at Tesla—the one automaker that basically bullied every automaker into making electric cars.
But clearly it'd love to wipe off some of of Tesla's shine. As part of a plan called Maserati Blue (apparently Maserati Green was taken????), the company has an EV coupe in the pipeline it's calling the Alfieri, which'll carry an all aluminum spaceframe, come with hardtop and cabrio variants, as well as a hybrid or plug-in hybrid setup. It looks like this:
G/O Media may get a commission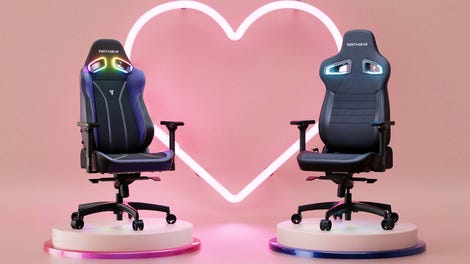 Up to $150 off
Vertagear Gaming Chairs
Update 9:30 a.m.: Our under-caffeinated brains forgot that Maserati already rolled out the Alfieri with this exact design back in 2014. The good news is it still looks great today.
That honking grille looks kinda silly on an EV, but Maserati has to do something to appease those who'll be daydreaming about what one of its loud, throaty engines of yesteryear sounds like. Here's how it looks from the side:

There's more electric vehicle-related stuff in the works, according to Maserati's presentation, but specs were... wanting. A midsize utility vehicle, with hybrid and plug-in hybrid variants
Something that seems far more likely are new versions of the Quattroporte and Levante, including hybrid and plug-in hybrid powertrain variants, sometime by 2022. Maserati apparently wants to include Level 3 autonomy, which few—including its main partner for autonomy, Google's Waymo—believe is a good idea.
If all goes according to plan, the Alfieri, Alfieri Cabrio, Quattroporte and Levante will have all battery-electric variants for sale, with all-wheel drive and impressively vague "quicker charge times."
Beyond the all-electric EV coupe, Maserati says every nameplate will be electrified in 2022, and there's a plan to deliver 100,000 units by then, doubling its sales of 50,000 in 2017. That's a lot of work cut out for them.