Formula One's two most beleaguered teams may be down, but they apparently aren't out. Despite financial problems that kept them off the grid for the U.S. Grand Prix, Caterham and Marussia are included on the preliminary team list for the 2015 season.
The FIA today released that list this morning on their official website, and it actually looks very much the same as it does now. Caterham and Marussia will still run cars next year.
However, Marussia is listed here under its Manor Motorsports name, whereas in 2014 it was called Marussia on the entry list; the team is also listed as being based in Britain rather than Russia. With Marussia Motors having gone under, it's likely that a name change is in order. Prior to 2012, Manor raced under the Virgin name.
Besides that, the only major changes have to do with engines. Lotus will switch to Mercedes motors, and McLaren will run Honda engines, the only team in the field to do so.
G/O Media may get a commission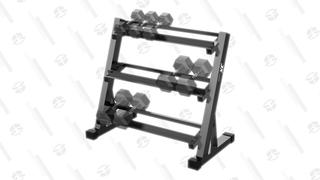 20% Off
JX Fitness Dumbbell Rack
Gains but tidy
Has a three-tier design to help store more weights more conveniently, can safely support up to 1000lbs of weight, which should be enough for most people, has a triangle base for stability, and also features anti-scratch feet which is great if you've built your own studio or workout in your garage.
| | | | |
| --- | --- | --- | --- |
| Company Name | Team Name | Name of the Chassis | Name of the Engine |
| RED BULL RACING LIMITED (AUT) | Infiniti Red Bull Racing | Red Bull Racing | Renault |
| RED BULL RACING LIMITED (AUT) | Infiniti Red Bull Racing | Red Bull Racing | Renault |
| MERCEDES-BENZ GRAND PRIX LIMITED (DEU) | Mercedes AMG Petronas Formula One Team | Mercedes | Mercedes |
| MERCEDES-BENZ GRAND PRIX LIMITED (DEU) | Mercedes AMG Petronas Formula One Team | Mercedes | Mercedes |
| FERRARI SpA (ITA) | Scuderia Ferrari | Ferrari | Ferrari |
| FERRARI SpA (ITA) | Scuderia Ferrari | Ferrari | Ferrari |
| LOTUS F1 TEAM LIMITED (GBR) | Lotus F1 Team | Lotus | Mercedes |
| LOTUS F1 TEAM LIMITED (GBR) | Lotus F1 Team | Lotus | Mercedes |
| MCLAREN RACING LIMITED (GBR) | McLaren Honda | McLaren | Honda |
| MCLAREN RACING LIMITED (GBR) | McLaren Honda | McLaren | Honda |
| FORCE INDIA FORMULA 1 TEAM LIMITED (IND) | Sahara Force India F1 Team | Force India | Mercedes |
| FORCE INDIA FORMULA 1 TEAM LIMITED (IND) | Sahara Force India F1 Team | Force India | Mercedes |
| SAUBER MOTORSPORT AG (CHE) | Sauber F1 Team | Sauber | Ferrari |
| SAUBER MOTORSPORT AG (CHE) | Sauber F1 Team | Sauber | Ferrari |
| SCUDERIA TORO ROSSO SPA (ITA) | Scuderia Toro Rosso | STR | Renault |
| SCUDERIA TORO ROSSO SPA (ITA) | Scuderia Toro Rosso | STR | Renault |
| WILLIAMS GRAND PRIX ENGINEERING LIMITED (GBR) | Williams Martini Racing | Williams | Mercedes |
| WILLIAMS GRAND PRIX ENGINEERING LIMITED (GBR) | Williams Martini Racing | Williams | Mercedes |
| MANOR GRAND PRIX RACING LTD (GBR)* | Manor F1 Team | MNR | Ferrari |
| MANOR GRAND PRIX RACING LTD (GBR)* | Manor F1 Team | MNR | Ferrari |
| 1MALAYSIA RACING TEAM SDN BHD (MAL) | CF1 Caterham F1 Team | Caterham | Renault |
| 1MALAYSIA RACING TEAM SDN BHD (MAL) | CF1 Caterham F1 Team | Caterham | Renault |