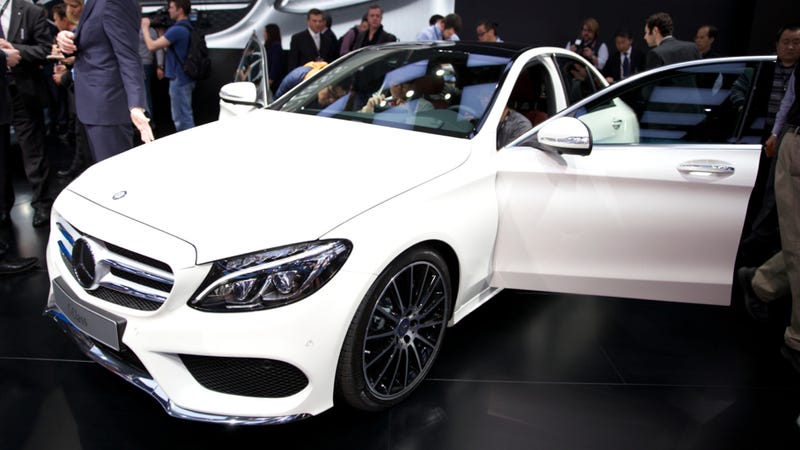 It's no surprise that the new C-Class looks like a shrunken S-Class. What is a surprise that it's up to 220 pounds lighter than the old model, making it the lightest car in its segment.
How'd Mercedes do it? Aluminium, or alloy as the guys from Stuttgart were calling it. The body in white, that is, the chassis and body panels, is just under 50% aluminum by weight. I heard 48% from one representative from Daimler AG. This means that about 68 kilos (150 lbs) of the C-Class' weight reduction is from the body in white alone. The fenders, hood, and trunk are aluminum, the roof is aluminum if you don't get the panoramic sunroof, and all the other exterior panels are aluminum save the rear 3/4 panel and parts of the bumpers.
This means that, in its lowest spec (a base, manual European-market C180) the car weighs a startling 1310 kg or 2888 pounds. A last-generation C180 manual in identical spec weighs precisely 100 kilos more (1410kg/3108 lbs). 150
Don't get too excited — the cars we get in America will be heavier than that. Our lightest last-gen C-Class was just over 3400 lbs. That means we can expect the official US C-Class weight to plunk down into the 3200 pound range.
So if you leave enough options off, you're looking at the lightest car in its segment. For reference, the BMW 3er is 3300 pounds and up, the ATS is the same, and the Audi A4 is 3500 and up and so is the Infiniti Q50
Bravo, Mercedes.