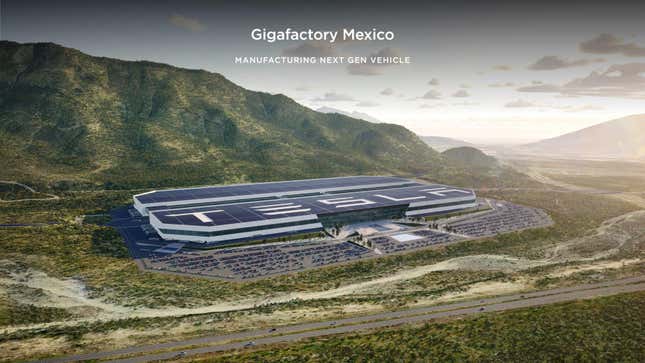 On Tuesday, Mexican President Andrés Manuel López Obrador officially announced that Tesla would build its latest production plant in the northern state of Nuevo León, which shares a border with the U.S. The new Tesla plant would be the biggest one yet, according to AMLO's statement to the press (link in Spanish).
In case you missed it:
But Elon Musk did not confirm the news until a day later, during Tesla's annual Investor Day presentation. Near the end of the presentation, Musk confirmed onstage what AMLO had said, explaining that the EV carmaker was "excited to announce the next Tesla Gigafactory will be in Mexico near Monterrey." Musk added that the new plant would provide "supplemental output" to Tesla's other factories, Automotive News reports. And according to Reuters, Mexican officials predict the new plant's output will be at around one million EVs per year, which would account for one third of Tesla's annual production.
The deal will be worth $1 billion initially, or about about $18 billion pesos based on current exchange rates, which is a lot. We're talking Pemex money here, so it's no wonder that AMLO gave Tesla his blessing to build in the northern state, despite saying earlier that he would withhold building permits due to a lack of resources in Nuevo León, namely water.
Reporters assailed AMLO with a barrage of questions over droughts and low water levels during the announcement, but the president said he had no details other than to say that Elon Musk assured him water would not be a concern.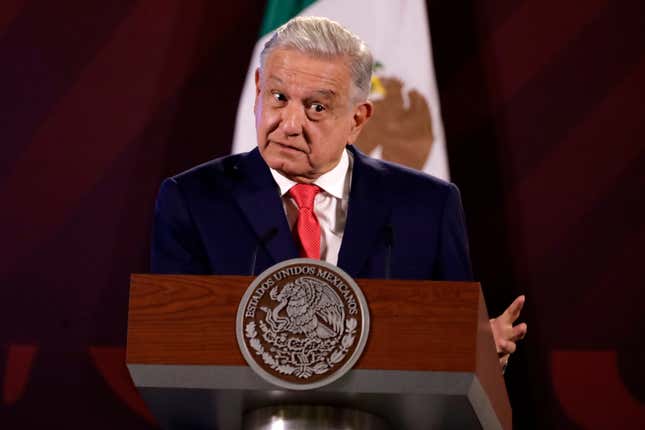 AMLO added that further construction phases could bring the influx of Tesla cash into the Mexican economy to a whopping $10 billion. Some of that may be used for "a potential investment in batteries," though that's still pending.
On-site battery production would make plenty of sense, turning Mexico into a one-stop shop for Tesla production, and also ensuring that all of the Tesla models eventually built in the country (and sold in the U.S.) will qualify for the full $7,500 EV subsidy available under the Inflation Reduction Act.
How Mexico Won the Gigafactory
This new plant will be the EV maker's third production site outside of the States, joining Tesla's sprawling assembly plants in Shanghai and Berlin. The site of Gigafactory Mexico had been in question for months, with a trade zone near Mexico City being another possible location for the plant, but the border state finally won out. Answers to the pressing question of water and other resources that the state will have to give up in order to host Gigafactory Mexico would only come days later, via an El País (link in Spanish) interview with Samuel García, the state governor of Nuevo León.
García told the newspaper that the entire saga of Gigafactory Mexico started with a joke about beer cans: during a guided tour that Tesla offered to García's administration, Tesla executives casually remarked that the Mexican politicians should keep drinking Tecates because all of the recycled aluminum from the cans was being used to build Tesla EVs.
The tour took place in February of last year, after which time state officials kept in contact with Tesla — sending along land purchase proposals, economic projections and even information on engineers currently employed in the area — as well as information on prospective engineers who have yet to graduate from one of the most prestigious universities in Mexico: el Tecnológico de Monterrey (also known as el Tec).
The state governor says he was unsure whether Elon Musk would choose Nuevo León as the new plant's site. According to García, he wasn't certain until Elon Musk visited Monterrey last year and became smitten by a proposed site for the plant, tucked into the Huasteca Mountains; Musk reportedly beamed at the notion, taking selfies as the helicopter hovered over the sprawling would-be site.
García even bragged to Musk about the dedicated lane that Tesla suppliers use at the U.S.-Mexico border, which Musk apparently had no knowledge of. The Tesla CEO perked up while discussing the private lane, calling it the only one of its kind in the world. That may have clinched it, as García recounts.
A few months later, a legal team from Tesla arrived to settle the details of the plant's construction. Tom Zhu himself told García that the Gigafactory in Shanghai was built in nine months, and that he's planning to beat his record and complete construction of the Gigafactory Mexico in less than nine months.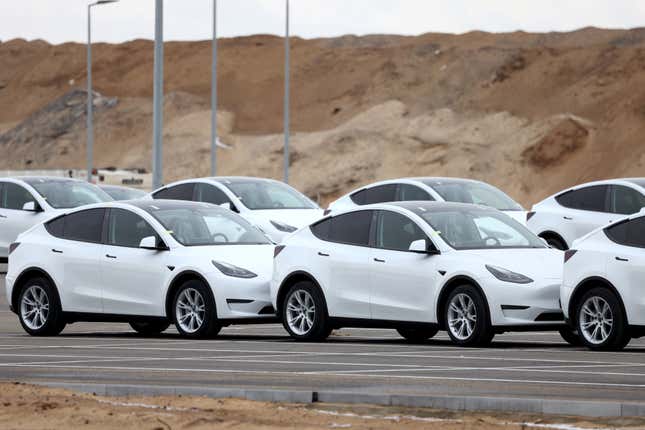 The Questions and Benefits of Tesla's Factory in Mexico
The subject of water is still a big question, and a controversial one at that. Despite recent droughts in the state of Nuevo Leon, which left many people in Monterrey without water to shower or do laundry, the governor says water will not be an issue. He says a nearby water treatment facility has been pumping out between 200 and 250 liters of water per second, which no commercial entity currently uses. He went on to say that Tesla confirmed the new plant would need 80 liters at most.
Just where those couple hundred liters of "unused" water were during the droughts is a mystery, but the governor seems sure that Tesla will not put nearby residents under further strain due to drought. That remains to be seen. And electricity from the grid will, likewise, not be an issue. García says the region produces an excess amount of energy, and since the new Tesla plant will reportedly use self-generated electricity, power will likely not be a concern.
Official numbers from Tesla say the plant will create 5,000 to 7,000 jobs in the state, but the governor says that undercuts the count by far. Even Tesla's own records show that certain other Gigafactories employ around 12,000 people. Garcia says the plant could create a total of 35,000 new jobs both directly and indirectly. And given Tom Zhu's ambitious timeline, the plant could be open and hiring by the end 2023.