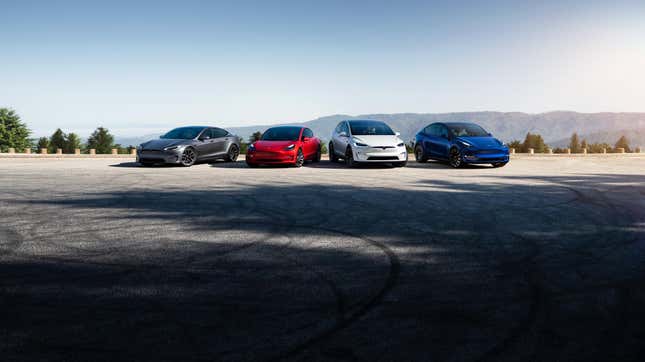 Since the beginning of the year Tesla has changed its prices… well, Tesla has changed its prices quite a few times, so if you're struggling to keep track, you're not alone. Back in mid April, for instance, the company cut prices for the sixth time in four months. And while it hasn't been clear whether or not those price cuts helped move metal or make the company money, we now have a slightly clearer picture. Automotive News has data that may point to those price cuts actually helping to sell Teslas.
Vehicle registration data from Experian — since Tesla doesn't actually release sales reports like a normal automaker — shows that in Q1 of 2023 Model Y registrations rose some 79 percent to 93,294. Coincidently the Model Y saw the biggest price cut of any Tesla model around the same time.
Prices have dropped significantly for the Model Y. At the beginning of the year you couldn't get into a Model Y for less than $67,000. That dropped $56,630 by the end of Q1; as of this writing you can get into a standard range (279 miles) Model Y for $47,490 which is just a bit higher than what it was just over three weeks ago.

Other Tesla models have been doing just OK, though not as great as the Model Y. Experian data shows Tesla registrations rose 37 percent in Q1 compared to Q1 2022. Tesla's cheapest model, the Model 3, saw a price cut that made it cheaper than the average new car in the U.S. in late February. It now costs $40,240 to get into a standard range Model 3. But those low prices only saw Model 3 registrations rise 11 percent.

While Tesla's most expensive models, the Model S and Model X, saw significant price cuts ($14,810 and $20,810 respectively), it wasn't enough to move too many. Q1 registrations for the Model S totaled just 2,635, a decline of 71 percent; Model X registrations rose 34 percent but were still just 6,545.

Could we be seeing the plateauing of Tesla demand? Possibly. Model Y price cuts coinciding with a registration jump could mean that more buyers who previously couldn't afford to get one finally bit the bullet. But between the price cuts, perks like free Supercharger access and a referral program for owners, Tesla could sense demand waning. With industry forecasts predicting Tesla delivering just over 670,000 vehicles this year, though, things may not be as bad as they seem.