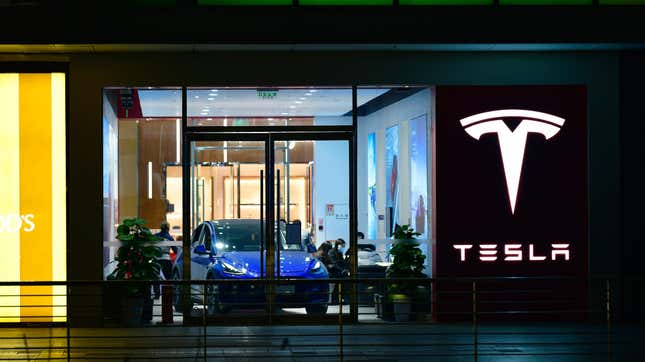 Tesla was, among other things, the very first company with a market value of over $1 trillion to also be junk-rated, meaning that the agencies that rate corporate debt regarded Tesla's as reasonably risky. But then one of those agencies, S&P Global Ratings, said last year that it was upgrading Tesla out of junk status, and, on Monday, a second one, Moody's Investor Service, said it would do the same. Tesla is now investment grade.
In case you missed it:
This doesn't mean much for you or me, poor schmos, and it also probably doesn't mean much to CEO Elon Musk, who thinks that Moody's is "irrelevant," but it could mean something for Tesla, the company itself, in making its future financing cheaper. More symbolically, it's a sign that Tesla has arrived as a blue-chip company on Wall Street.
Via Bloomberg:
"It's a historic event for Tesla," said Joel Levington, a Bloomberg Intelligence credit analyst. "We continue to believe the rating upgrade cycle for the company has legs, potentially narrowing views of credit risk against Volkswagen."

Tesla's stock, which plummeted in 2022, rose 5.98 percent to $194.21 in mid-day trading on Tuesday and is up nearly 50% so far this year.
For their part, Moody's seems to believe that the Cybertruck is real, among many other things.
"Tesla will maintain its position as one of the leading manufacturers of battery electric vehicles, as the company further solidifies its global footprint," Rene Lipsch, senior credit officer at Moody's, wrote in the statement.

The credit grader also cited the automaker's expanding product offering, including early production of the Cybertruck slated for later this year, its regional production facilities and heightened focus on efficiency and financial leverage.
Tesla's new rating from Moody's is Baa3, which is in the very middle of their ratings scale, which I'm sure Elon and the kind of people who buy Tesla stock will consider academic at best. Or maybe Elon does care, in that Tesla is no longer a cool trillion-dollar company rated junk. That's too bad, as this is just another sign that Tesla is a regular car company now.