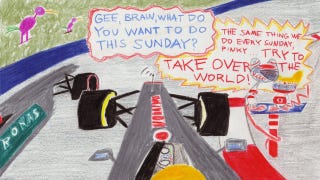 A third of the way into the season, and here's Monaco. It takes brains to win at Monaco. It also takes luck. And more luck. This year's race was a showcase of what's awesome about this antediluvian Grand Prix, and also of what makes Monaco so terribly irritating, for 2011 was a teeth-gnashing coitus interruptus of a…
It always rains in Malaysia. It didn't rain in Malaysia yesterday. Never underequipped when it comes to show biz, Formula One bridged the precipitation gap with a flying Russian (above), a jinxed Brit, and an old rivalry rekindled. A fun race—for second place. Warning: spoilers.
If paintjobs can win races, the entire Formula One grid must be quaking in their Nomex boots. Renault's vespid R30 is one hell of a looker.