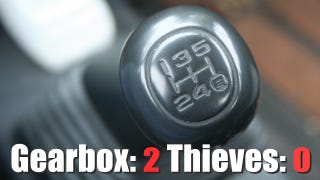 More evidence that a manual transmission is not merely a means to greater car control and a better driving experience: Like a similar case late last month, a shift lever and clutch pedal have prevented yet another carjacking.
The latest infoporn from Hunch.com delves into the site's proprietary user data system to uncover the characteristics of people who can drive cars with a stick shift vs. those who can't.
A pair of masked carjackers, one brandishing a gun, tried to jack some guy's 2005 Volkswagen in a Baltimore suburb, but were thwarted by that pesky third pedal. Deputy Sir Stirling Moss would like to have a word with them.