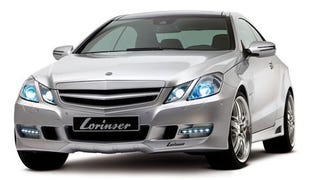 Acura, lacking a coupe in its lineup, turned to Benz tuning house Lorinser to take the otherwise attractive new Mercedes E-Class Coupe and graft on an Acura-esque schnoz. It's what we always never wanted!
The Mercedes E-Class Coupe's quite nice, yes, but so nice as to be perfect — or so perfect as to be deserved of a new word to describe its perfectness? Not so much. [FuckYeahAds]
For the wee fee of just €29,000 ($39,000), you can take the 2010 Mercedes E-Class Coupe from mundane to profane with this latest tuning kit from BRABUS.
Replacing the CLK, the 2010 Mercedes E-Class Coupe adopts a similar look to the new E-Class Sedan and most of its mechanicals. It's just a shame it's not as fun to drive as the four-door.