Replacing the CLK, the 2010 Mercedes E-Class Coupe adopts a similar look to the new E-Class Sedan and most of its mechanicals. It's just a shame it's not as fun to drive as the four-door.
G/O Media may get a commission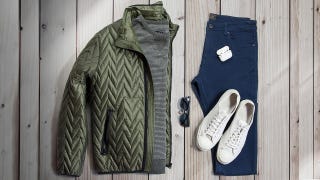 60% off
Jachs NY Fall Sale 60% Off
Full Disclosure: Mercedes wanted us to drive the 2010 E350 and E550 Coupes so badly, they flew me out to Vegas and put me up in a fancy hotel. Also, they fed me grilled shrimp, which, in hindsight, could have been responsible for the stomach trouble.
The thinking behind the name change is that the Mercedes range has simply grown too diverse, bewildering suburbanites from New Jersey and Florida who, inexplicably, can afford to shop in a Mercedes dealership despite lacking the mental acuity to understand the naming convention of what they're buying. The original CLK name was meant to reference the fancy CL coupe, just like the SLK was a small, cheaper, more permed take on the SL roadster. Mercedes wanted to make sure buyers are able to comprehend that this new car uses more E- than C-Class components, hence the E-Class Coupe designation.
Mercedes says the ratio of E-Class parts to "other Mercedes-Benz products" in the Coupe is about 60:40. They're happy to detail which parts are shared with E — the suspension, engines, looks and all the advanced safety features — but don't want to say where the other 40% comes from. Since the E-Class Coupe shares the C-Class's 108.7-inch wheelbase and minor interior parts, we're going to go out on a limb and say that's where the 40% originates.
That's kind of a shame, because the E-Class Coupe is noticeably less engaging to drive than the 2010 Mercedes E-Class Sedan. That's not to say it isn't competent, it's much more so than the old CLK and even the twistiest of mountain roads above Las Vegas fail to fluster it. Corners are taken with virtually no body roll, steered into with accuracy and exited with plenty of thrust from either the 268 HP 3.5-liter V6 or 382 HP 5.5-liter V8. It also hits the 130 MPH speed limiter in a picture of composure, it'd be happy there all day. It's just that none of those activities are in any way fun. You kind of get the feeling that if you're lulled into sleep by the coffin-quiet interior, the Attention Assist will conspire with the adaptive shocks, Distronic Plus with Pre-Safe Brake radar cruise control and Parktronic with Parking Guidance automatic parallel parking system to drive you home and tuck you into bed.
Of course this E-Class Coupe wasn't designed for irresponsible young hoons like me, but rather the irritatingly useless real housewives of a reality show near you. They'll go gaga over the seriously handsome new looks, including the Mercedes SLS-like grille and, since their husbands will almost certainly spec the upmarket interior, the nice pleated leather door and contrast-stitched leather seats too. They'll also love the new brushed aluminum and wood trim, the heavily contoured buckets front and rear and the very fashion conscious choice of chocolate brown plastic on the dash. In fact, they'll be so busy focusing on the bling - chromed seat handles and door jambs, pillarless windows - that they won't notice the distinctly C-Class plastics employed on the air vents, button surrounds and center console.
Constantly running late to hair appointments and charity galas, they'll prefer the V8's 391 Lb-Ft of torque that's delivered instantly anywhere in the rev range, but not the less imposing 258 Lb-Ft of the V6 since they'd have to work that engine using the manual override paddles located on the steering wheel. Doing that would likely require far too much attention, something that's reserved for cell phone conversations and molly coddling small animals, not for driving. The V8's 5.0 second 0-60 time will come in handy fleeing imagined paparazzi much better than the V6's 6.2 seconds.
It's unlikely that it'll ever be used, but the E550 also incorporates Dynamic Handling Suspension as standard. Click a cheapish button on the dash marked "Sport" and the suspension firms up noticeably, throttle response sharpens and revs are held longer. Revving the V8 results in a delightfully antisocial exhaust note from the squared off pipes.
Husbands that live by the motto, "Happy wife, happy life," will also like the new E-Class Coupe. The E350 starts at $48,050, $50 cheaper than the CLK350, while it gains a host of standard features: full-length sunroof, Comand display, driver knee airbag, pelvic airbags, Bluetooth, Agility Control and Attention Assist. The E550 starts at $54,650.
Unlike the E-Class Sedan, there's no plans to offer either a diesel or AMG version. That lack of an E63 AMG Coupe is perhaps most damning. Asked why, a Mercedes engineer responded, "Drive the V8 and tell us if you think there's a need for the AMG." Well, we've driven it and we don't think the E-Class Coupe merits a performance version. It's a very nice luxury car and a quite a looker, just not a driver's car.