Welcome to Rally Flashback, where we look at previous versions of the upcoming round of the World Rally Championship. Rally Sweden is one of the classic rounds of the WRC, and the only winter rally on this years calendar. This year the conditions will feature less snow and more ice/gravel, possibly similar to what we…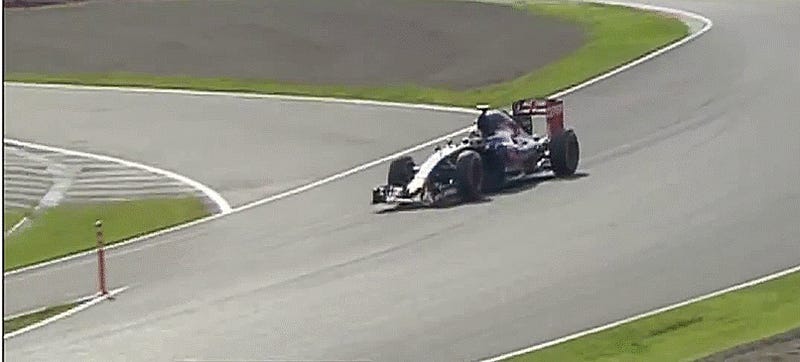 Poor Carlos Sainz Jr. Not only did he whack into the pit entry cone as he pulled into the pits, but he locked up his tires trying to slow down down to pit lane speed in time. This looked like the worst last minute pit call ever, but the upside is that the pit entry cone is worth ten imaginary bonus points!

Whether you love or hate team orders, you have to empathize with the poor driver who gets one. Scuderia Toro Rosso's Max Verstappen — perhaps following in Red Bull teams' alumni Sebastian Vettel's footsteps — decided that he wasn't going to take it, and called out "NO!" over the radio.
Built in 1922 and essentially abandoned in 1923, Autodromo de Sitges-Terramar is the second oldest remaining track in Europe. Unlike the oldest, England's Brooklands, it was built so well that it remains useable today. Here, rally legend Carlos Sainz laps its 80 year old banking in an Audi R8 LMS.
As far as we know, this is the only official, Diesel-equipped VW that can pull wheelies. Of course, it's the only one that can pull stoppies too, as evidenced by the gallery of Dakar practice action photos below.
Looks like there may be some 'splaining to do in the Mitsubishi marketing department this week. An eagle-eyed reader with obviously little else on his plate at the moment (like us) caught an incongruous clip in the Mitsubishi ad we posted earlier today. It appears the spot contains a glimpse of Spanish rally champion…