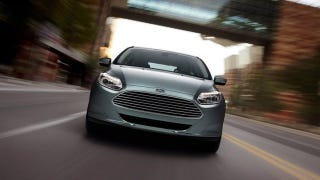 Ford says it wants to give the electric version of the 2012 Focus a unique sound, and has posted four possible choices to the intertubes — from faux internal combustion to what could be a toilet flushing on the starship Enterprise.
The Ford Focus Electric will debut at this year's Consumer Electronics Show and a teaser photo of it posted on the company's Facebook page shows off a Tron-style glowing outlet orb. The Focus Electric goes on sale next year.
The first new 2012 Ford Focus rolls off the assembly line today in Wayne, MI. That bitter taste? Yeah, that's adrenaline from the thoughts of the upcoming 246 HP Focus ST coursing through your reptilian brain. Do want. [via Fiestagrrl]
The Ford Focus ST is the star of the 2012 lineup, but we'd be remiss if we didn't mention the new regular sedan and five-door version, or the 2.0-liter putting out 158 hp. No wagon, but beggars can't be choosers.
The Ford Focus ST is the 247 hp Ecoboosted hot hatch we've demanded Ford to send stateside. Here it is with a sweater vest-less CEO Alan Mulally showing off. More here and here. Center exhaust... yummy.
The 2012 Focus debuts Ford's next-generation airbag, designed with an internal tether which shapes the bag to reduce pressure and injuries to the ribs and abdomen. It also makes the airbag look like an old lady's bottom.
Oh, look... the Ford Focus Wagon. The fifth variant of the new Ford Focus is yet another stylish, attractive and functional Euro-wagon we won't be getting stateside. America, why do you hate small, utilitarian vehicles?
Before Bill Ford pulled the 2012 Ford Focus from an on-stage Demon Hole, he stopped our hearts with big news. An RS!?! No. An announcement regarding Michigan-built all-electric Focii starting next year and hybrid C-platform cars. Sad.